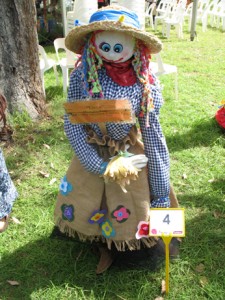 Garden Week is running at Perry Lake Reserve from the 7th to the 11th of April, 2011. One of the features of the events is the number of competitions being run and a fantastic one which caught my eye is being run by Therapy Focus, a not for profit organisation that provides therapy and other services for children with disability or learning disadvantages and their families.
Therapy Focus has had various schools around the place design Scarecrows and then Garden Week visitors can vote on their favourite design. There was a great range of designs and idea's that made it very hard to decide which one to vote for.
You might be asking 'What does Therapy Focus have to do with gardening?' Therapy Focus logo and mascot is a sunflower and they use it share their inclusion message to help children learn about disabilities and not fear differences. I really like the use of something to do with gardening as a means of promoting a positive message. Therapy Focus encourages people to plant sunflowers to show support for their message and I believe this is a good idea. I also like the way they have used the humble garden Scarecrow as a mean of interacting with students and presenting their message, while also giving the kids something to strive for.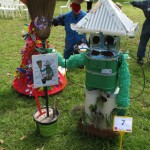 I was torn as to whether or not I should suggest which scarecrow I liked the most but in the end I have decided to share! To the right you will see my choice. I really liked the use of recycled materials and the fact the scarecrow also had other functionality as a worm farm. I have no idea if it would actually work as a scarecrow, but at a primary school a functioning worm farm would be more beneficial! So this one here got my vote. Why not check out the scarecrows and cast your vote at the Therapy Focus booth, Site 79.