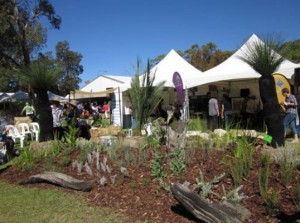 Garden Week 2011 wraps up in Perth today after a fantastic fun filled weekend promoting the many different aspects of gardening to Western Australian gardeners. There were over 100 different stall holders throughout the 5 day event, all of which bought some fantastic elements of gardening to the table.
My favourite sites during garden week 2011 were as follows;
Diamond Gardening Tools – The stall operator at Diamond Gardening Tools was a real character and he made the presentation of his tools fun!  I also really like the thought that seems to have gone into the construction of his line of tools. I myself have never used them, so can't speak for their quality, but I really think he presented the tools well and made the listening experience enjoyable.
Scarecrow Competition & Therapy Focus – I already mentioned this here so I won't say too much but I really liked the idea of using an element of gardening (scarecrow) to get children involved with gardening and positive messages. And the scarecrow I voted for won!
Total Eden – Total Eden is a great, local reticulation and gardening specialist and I think they put a lot of effort into their stand this year. Every time I walked past there were countless people getting advice from them, and what I over heard was really fantastic. Total Eden does a really good job of working with the mum and dad gardeners as well as catering towards professionals in the industry.
Zanthorrea Nursery – There were a lot of fantastic nurseries displaying their plants this year, which you would expect, but for mine the best was Zanthorrea. This is not surprising given the quality of their actual nursery throughout the year but it was great to get good advice and a good price on many great plants.
It is not too late to get down to Garden Week if you have not been already. There are some great talks today at the HMA Talking Gardens stage. If you get there quickly Sue McDougall is covering common gardening pests at 11.30am and Peter Coppin is talking about Bush Tucker plants at 12.30pm which should be wonderful as well. This and much, much more on the final day of Garden Week 2011 in Perth, WA.