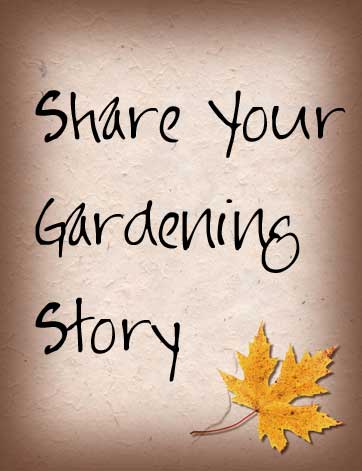 Have you grown up with a trowel in hand or have you only recently learned the difference between a spade and a shovel? More importanrly, are you keen to have a better garden? If you answered yes to any of these questions then you should consider entering my 'share your gardening story' competition and you could win a basic gardening pack. What is in the pack? Read on to find out!
Here at AussieGreenThumb.com I want to grow a real community of people who help one another out with the goal of growing a better garden. Whether you have had a garden all your life or have only recently taken up the opportunity to grow a garden I want you to find a patch of dirt here at AussieGreenThumb.com to both help others and challenge you to grow.
One important part for any community to grow is that people actually need to know each other a little. As such, I would really like my readers to share their stories. My hope is that there will be enough entries for me to submit 1-2 stories per month to help people foster a relationship here and be consistently inspired by other peoples stories. I believe stories have a real power within them to instigate change for the better and that is what I hope to see from this series.
Competition details
What I want from you is a short, 200-600 word story from your gardening life. Now, this might be the one part of the story of how you got into gardening. It might be a recollection of a favourite plant. It might be that you have just taken up gardening and you share what you hope to achieve in the future. It just needs to be any story from your garden life. You can enter by sending your story to me via my contact page by August 31st and include your name. No address is required upon entry. If you win, I will get your address at a later date for postage.
The Prize
The winner will receive a basic gardening pack that I have put together. The basic gardening kit contains
– Aluminium trowel;
– Aluminium fork;
– Aluminium weeder;
– Heavy duty gardening gloves;
– Garden tool sharpener for pruners, hedge sheers, loppers etc.
Because I believe in using quality tools I have chosen tools I believe will last you a long time.
Terms and Conditions
 – Australian residents only. The shipping costs for overseas are too high so sadly only Australian residents or entries who have an Australian address will be eligible to win. If you want to enter from overseas feel free, I will include your stories in future posts but you will be ineligible to win this competition.
– Multiple entries are allowed. As long as the stories are clearly different you may enter as many times as you like to increase your chances.
– All entries become ©AussieGreenThumb.com and become the property of Aussie Green Thumb. This is simply because I need to maintain ownership for any articles posted on this website for privacy and legal reasons. If you do not wish your real name to be associated with your story just let me know in your entry what pseudonym you would prefer.
– There will only be one winner, chosen at random, by me. I will enter the name of each entry into a container and draw one winner on September 1st and announce the winner on September 2nd right here at AussieGreenThumb.com.
Please, tell your friends about this competition and get entering! The more stories, the more we can help inspire both beginner and intermediate gardeners to grow a better garden 🙂