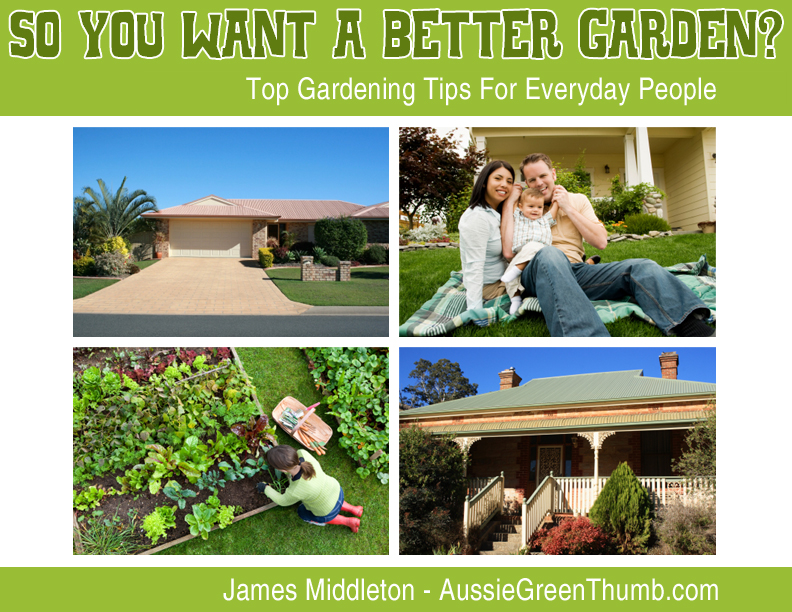 Hi there, thanks for checking out Aussie Green Thumb, I appreciate it. If you want more, click here for all my best advice, exclusive content and FREE bonuses!
So you want a better garden? You want a better garden that you are not afraid to show your mother or father in law? You want a simple, easy to manage, easy garden. Perhaps you just want a better garden which produces you your very own fruit and vegetables. Whatever the case, if you want a better garden then AussieGreenThumb.com is the place to be throughout the month of September.
September is 'So You Want A Better Garden Month' at AussieGreenThumb.com. Throughout this month my focus will be on helping you to grow a better garden that you can be happy with. Here is just some of what you can look forward to.
30 Days to Grow A Better Garden
One of the key problems people have in going from wanting a better garden to having a better garden is that the tasks just seem to hard. Often when you have come to the time when you want to improve your garden, you may feel like you have a wild forest to contend with and this just seems too much. Welcome to 30 days to a better garden! For each day of September I have come up with one task you can complete that day to head towards having a better garden. As I recognise time is often an issue for people I have kept the vast majority of these tasks to 10 minutes or less. That is right, 10 minutes per day can help you have a better garden.
I will release these tips 5 days at a time here on my website and also one at a time daily on Facebook and Twitter. This is simply because a few of them require you to do something else, like perhaps buy some manure. However they mostly are simple things that you can do now with tools or equipment you likely already have around the house. I want to help remove any obstacles that you may face in the challenge of growing a better garden. If you find these tips useful feel free to pass them on to your twitter followers or facebook friends.
To make sure that you don't miss any of these tips you may also like to follow my RSS Feed.
'So You Want A Better Garden?' Ebook Launch
For the past few months I have been writing a book to help everyday people grow a better garden. I will be launching this in just on September 9th. My main focus at AussieGreenThumb.com is helping you to grow a better garden and I believe this book is the next step in the journey.
My book is 165 pages long and contains content such as 'Understanding Garden Design', 'Understanding Your Climate', Understanding Your Soil' and much, much more. The recommended retail price will be $25.95 however, you can sign up today to be kept in the loop about the release and have the opportunity to buy it for only $7.95 when it launches. How do you do this? Go to my 'So You Want A Better Garden?' Ebook page by clicking here and sign up to my pre-release subscriber list.
Here are some words from one of my pre-release book reviewers;
At last a book that has everything for a beginner! As someone who had learnt to garden in another country, it is great to have a guide to help me figure out what to do and when. So You Want A Better Garden gives me plenty of useful information regarding everything I needed to know about planting, fertillising, pruning, tools, plants and much more! James Middleton delves extensively into the thought process behind great gardens with easy upkeep. I am so excited about all of the possibilities that I can plant that I have already begun thinking about all of the changes that will be occurring in my new garden next year! Hayley Woolhouse, Denmark WA
If you want a better garden, go to my launch page and sign-up to the pre-release subscriber list today! Click Here.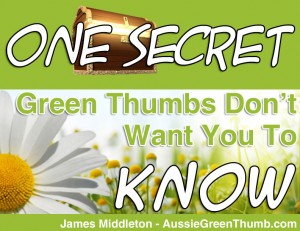 One Secret Green Thumbs Don't Want You To Know
As a bonus, anyone who signs up to my pre-release subscriber list will receive a *FREE* copy of my new report 'One Secret Green Thumbs Don't Want You To Know' which delves into the mind-set required for you to achieve your gardening goals and dreams. This is a short ebook you could read in 20 minutes and yet I believe it will help you overcome some of your possible apprehension and concerns regarding really getting into gardening.
Click Here to sign up to my pre-release subscriber list and get your free copy of this report
My Gardening Story – How I Became Aussie Green Thumb
Throughout 2010 I wrote a series of articles which helped to explain how I became Aussie Green Thumb. Over the last year I have had many requests for a compiled copy of this series. Due to this overwhelming demand I have combined every article into one ebook. I will be releasing this ebook very shortly free of charge on the 'My Gardening Story' page.
Plant of the Month – A Compilation
Another overwhelming request has been for me to compile each of the Australian native plant reviews which I have written over the past two years. This I have also done and will also be releasing for free later this month. This compilation will feature over 40 different species of around 10 or so different Australian native plants. I strongly believe in using Australian native plants in growing a better garden simply because they are best suited to Australia's climate and conditions. You will find this on my 'Plant of the Month' page in the near future.
I'm excited.
Anyone who knows me in person knows that I am often excited. That is true of this month at AussieGreenThumb.com. I really hope you will partner with me in the goal of having a better garden and will let me help you move towards your gardening goals, hopes and dreams. I myself want you to have a better garden.
Here's to your gardening success.
James Middleton
AussieGreenThumb.com – Top Gardening Tips For Everyday people