So far this month I reviewed the Red & Green variety of Kangaroo Paw, called Anigozanthos manglesii and the Orange Gem variety, called Anigozanthos flavidus. This week we look at a variety commonly called the Green Machine.
Update: See also my review of the Yellow Gem variety, and my all time most popular post on how to prune kangaroo paws.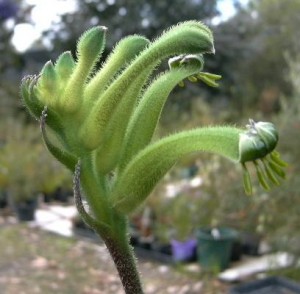 Genus: Anigozanthos
Species: viridis
Common Name: Green Machine
Flower Colour: Green
Foliage Colour: Green
Growth Habit: Strap Leaf/Grass
Flowering: Summer & Spring
This variety is another of the larger in the Anigozanthos family, with flowering stems up to 1m high. Obviously the main difference between this species and the other featured is it has green flowers as well as foliage. However what it great about this variety is the green flower is a much lighter green colour than the stems. The best use I have seen for this variety is when placed between two other varieties. For example I once saw a patch of Red and Green Kangaroo paws clumped together, surrounded by the viridis Kangaroo paws and then another, smaller variety with yellow flowers. The light green flowers of the viridis really helped to create an amazing visual contrast between the Red & Green and Yellow flowering varieties. Having said this I would say the viridis doesn't look as good by itself, so it is best when planted amongst other varieties.
Thanks to Lullfitz Nursery for much of this information. If you want to buy this plant they regularly have it in stock so check them out!
Check out the Aussie Green Thumb ultimate gardening toolkit for our all time most popular and useful gardening posts