Hi there, thanks for checking out Aussie Green Thumb, I appreciate it. If you want more, click here for all my best advice, exclusive content and FREE bonuses!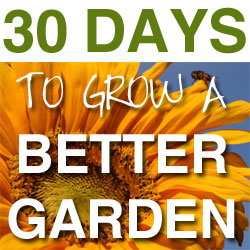 Welcome to September, or as it will be called at AussieGreenThumb.com 'So You Want A Better Garden?' month. This month I will be focusing on helping you step forward to meet your gardening goals. I realise though that for many people the task of improving your garden seems monumental.
Don't fret! One of the keys things I'll be helping you do this month is break the task down into manageable, bite sized pieces with my series '30 Days to Grow a Better Garden'. I'll be releasing 5 days worth of tasks at a time simply because a few of them will require you to be prepared for the days task. However as much as possible I have kept these tasks to 10 minutes per day. Connect with AussieGreenThumb.com on Facebook or follow AusGreenThumb on Twitter to make sure you don't miss any tips!  So, without further ado, here are the first 5 days tips!
Days 1 to 5 – Understanding Garden Design
Day 1: How many different garden beds do you actually have? Do they all have plants in them or are some empty? Do you have any garden beds which have too many plants in with some plants overgrowing the garden bed? Take 10 minutes to take stock of your actual garden layout. This will help you prioritise which garden beds will need attention first.
Day 2: Take 5 minutes in the morning and 5 minutes in the afternoon and note what garden beds receive sun and when. What gets morning shade? What gets afternoon shade? This will influence what plants you should choose to plant in each garden bed. Some plants need a lot of sun, but prefer the less harsh morning sun. Others thrive with the strong afternoon sun.
Day 3: While you are out and about today, keep an eye on any gardens you see. What do you like about them? What don't you like about them? Is there 1 idea you could try and implement in your garden? Growing a great garden yourself means learning from and being inspired by the gardens you see out and about.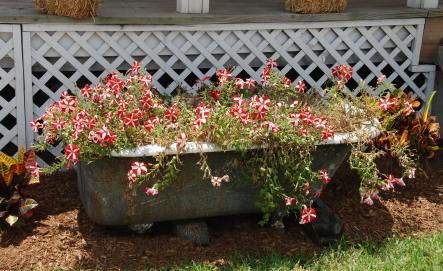 Day 4: Have a look around your house for materials you might use to spice up your garden design. Old pavers, bricks, pieces of equipment (like wheelbarrows), baskets etc. Perhaps you have some excess natural rock that would look good somewhere in your garden? Garden design is all about inspiration and finding different things that you can either feature or that will help your plants stand out.
Day 5: Spend 10 minutes reclaiming whichever garden bed is most weed affected. Try and focus on the area that will make the most aesthetic difference because this will encourage you to keep going in the future. We humans are fickle creatures and often need constant motivation. If you weed for 10 minutes and nothing looks different you are less likely to do it again. If however there is a world of difference it increases the motivation factor roughly tenfold.
What's next? Well, time to start working on the next 5 tips, which are all to do with Understanding Your Climate.
For all the '30 days to grow a better garden' series, follow these links:
30 days to grow a better garden: part 1
30 days to grow a better garden: part 2
30 days to grow a better garden: part 3
30 days to grow a better garden: part 4
30 days to grow a better garden: part 5
30 days to grow a better garden: part 6
Intrigued to know more about garden design? Chapter 1 in my ebook delves into the topic of garden design a little deeper in a way specifically designed to help beginner and intermediate gardeners understand more about garden design.
You will also learn about;
1. Does size really matter? Garden bed shape and size;
2. Location, location, location. How does your garden bed location affect your plants?
3. 5 Great Ways to Decoratively Show Off Your Plants;
4. 5 Reasons to use Raised Garden Beds.
So You Want A Better Garden?
Click here to read more about what my ebooks have to offer you, or to buy and help support this website (thank you so much).
All my best articles have been collected into what I'm calling the ultimate gardening toolkit – make sure you take a look, there's a heap of great gardening advice available.