This month at AussieGreenThumb.com is 'So You Want A Better Garden' Month, which aims to help you grow better gardens. As part of that I am running a 30 day challenge. The challenge consists of daily tasks of about 10 minutes each. I guarantee that if you complete each days task, by the end of September you will be well on your way towards reaching your gardening goals and growing better gardens. Will you accept the challenge?
Day 5 Challenge Recap – Spend 10 minutes reclaiming whichever garden bed is most weed affected. Try and focus on the area that will make the most aesthetic difference because this will encourage you to keep going in the future. We humans are fickle creatures and often need constant motivation. If you weed for 10 minutes and nothing looks different you are less likely to do it again. If however there is a world of difference it increases the motivation factor roughly tenfold.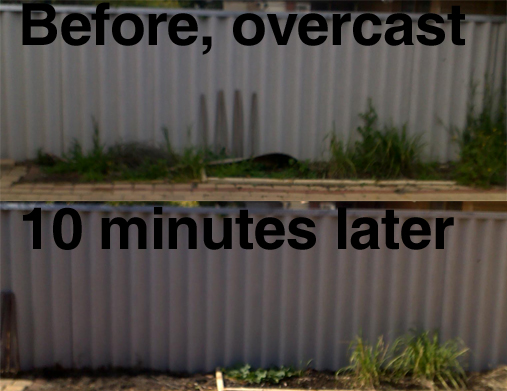 Report
It was really simple for me to know which garden bed to weed today. I actually weeded what i called garden beds 2 and 3 on day 1. I consider these as two beds in my own design, even though they are connected. They are also very close to my house and so very visible to visitors. They are also the most overgrown bed weed wise, though not even close to what I sometimes see! I knew weeding these beds would make the biggest different and would encourage me to do more weeding in the future. There is only one bed left out the front which I will likely do next time.
As you can see, I achieved quite a bit in just 10 minutes. I have been weeding for a while and so don't mess around but even someone brand new to gardening will be surprised, I believe, with how much you can get done. Sure, this is a relatively small garden bed in the scheme of things but what I find works well with big garden beds is to break them down into bite sized pieces. Don't necessarily set yourself the goal of doing the whole lots, perhaps choose a small, very weedy part and do that. Seeing a gaping hole in a garden bed that is weed free brings strange motivation to do the rest!

The reason I set this challenge
Weeding is the bane of many gardeners existence. The words 'fun, joy, satisfaction' are rarely used in conjunction with weeding and yet it is a universal constant, pretty much, in gardening. Yes, there are many methods to reduce and limit the growth and spread of weeds (some of which I cover in my book) but in general, you will need to weed. This is one of the biggest reasons people give up, the weeds get the better of them. The thing is, just 10 minutes weeding can make a huge difference. I set this challenge to encourage you to perhaps not see the whole garden bed as one task, but as many tasks of 10 minutes. Break it up and spread it out and I believe you'll have a better chance of completing it.

Learn more about Garden Design
This challenge fits under the category of 'Understanding garden design'. Most people think of garden design as;
Something landscapers do;
Difficult to learn and understand;
Not for the beginner;
This is not true. Though I wouldn't expect you to get out and design flowing gardens, simply understanding your own garden is a step towards better understanding garden design. If you want to know more about beginner level garden design, the first chapter in my ebook covers it. Find out how you can buy my ebook 'So You Want A Better Garden' here.
It's not too late to join the challenge! You can grow a better garden. Start today! The great thing about this challenge is it can run over any 30 day period. Just check out days 1-5 and start from today. You can grow better gardens.