(Make sure you check out my most popular and helpful articles when you get a chance).
So far this month I reviewed the Red & Green variety of Kangaroo Paw, called Anigozanthos manglesii, the Orange Gem variety, called Anigozanthos flavidus and the Green Machine variety, called Anigozanthos viridis. This week we look at a variety commonly called the Yellow Gem
Update: See also my all time most popular post on how to prune kangaroo paws.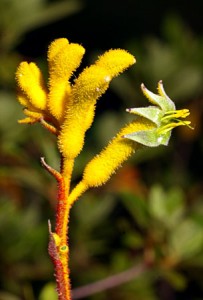 Genus: Anigozanthos
Species:
Common Name: Yellow Gem
Flower Colour: Yellow
Foliage Colour: Green
Growth Habit: Strap Leaf/Grass
Flowering: Summer & Spring
According to Lullfitz.com.au this variety is "a hybrid kangaroo paw bred by Mr S Haynes and released in the early 1970's". I myself have not grown this variety so am recommending it based on the picture alone! From its description it certainly sounds like one a very tall growing variety, with flowering stems as large as 1.8m tall! This is very tall for a Kangaroo Paw! Like most Kangaroo Paws it will grow best in a full sun position. There really is not much more I can say other than give this variety a try. I have only discovered which grow well and which don't by trying, so why not try a new variety this month?
Thanks to Lullfitz Nursery for much of this information. If you want to buy this plant they regularly have it in stock so check them out!
There you have it, January is coming to an end and so is the position of the Kangaroo Paw as plant of the month. Next week we start to look at another awesome Australian native called Pimelea. Stay tuned!
So You Want A Better Garden?
All my best articles have been collected into what I'm calling the ultimate gardening toolkit – make sure you take a look, there's a heap of great gardening advice available.
I've also published a series of gardening ebooks that you might be interested in. Good luck!