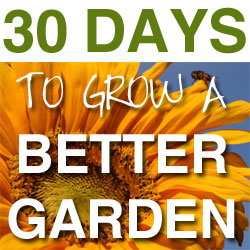 This month at AussieGreenThumb.com is 'So You Want A Better Garden' Month, which aims to help you grow better gardens. As part of that I am running a 30 day challenge. The challenge consists of daily tasks of about 10 minutes each. I guarantee that if you complete each days task, by the end of September you will be well on your way towards reaching your gardening goals and growing better gardens. Will you accept the challenge?
Day 7 Challenge Recap – What season is your climate zone in? Summer, Autumn, Winter or Spring? Research what that means for your zone. Different climates have different seasons and experience different things. For example, a temperate climate experiences a dry Dec-Feb in Australia where as a tropical climate generally experiences their wet season then in Australia! This will impact on your garden.
Report
As I live in Perth, Western Australia September marks the beginning of Spring. Spring is a wondrous time in a temperate climate because it so often corresponds with so much new growth. Whether plants have gone completely dormant in winter or simply slowed down, as is usually the case in a temperate climate, Spring is where they kick into gear again. Around Perth right now there are many wildflower shows going on which are absolutely spectacular.
My Bottlebrush is also bursting with buds and within a week or so will be alive with the colour red. I am very excited to see how it looks this year after I gave it the first trim it has received in years after last flowering season.
Another thing spring is great for is vegetables. Vegetables such as asian greens, asparagus, avocados, beans, broccoli, cabbage, carrot, cauliflower, lettuce, mushrooms and many, many more very much enjoy spring. The growing conditions this year(2011) have been particularly good. A few days of beautiful sunshine, then some light showers for a day or so, followed by a few more days of beautiful sunshine.
The reason I set this challenge
Growing a better understanding of gardening actually takes time. You really need to view your garden in every season to truly understand it. I encourage you to take note of what season you are in now and then record what is going on in your garden. Do this at the start and even towards the middle of every season so that you have a full understanding of what your garden is like during every season.
Learn more about your Climate
This challenge fits under the category of 'Understanding Your Climate'. The system I follow suggests there are 3/4 climates in Australia as follows;
Cold Climate;
Temperate Climate;
Sub Tropical/Tropical Climate;
If you want to learn more about how climate affects the garden, chapter 2 of my ebook covers understanding your climate in much more depth. Find out how you can buy my ebook 'So You Want A Better Garden' here.
It's not too late to join the challenge! You can grow a better garden. Start today! The great thing about this challenge is it can run over any 30 day period. Just check out days 1-5 and start from today. You can grow better gardens.