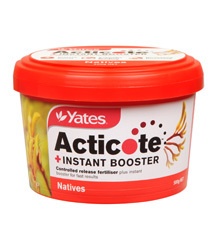 This month at AussieGreenThumb.com is 'So You Want A Better Garden' Month, which aims to help you grow better gardens. As part of that I am running a 30 day challenge. The challenge consists of daily tasks of about 10 minutes each. I guarantee that if you complete each days task, by the end of September you will be well on your way towards reaching your gardening goals and growing better gardens. Will you accept the challenge?
Day 8 Challenge Recap – If you are towards the beginning of one of the seasons why not fertilise your garden? This task will take longer than 10 minutes if you do not have fertiliser at home so perhaps get it the day before on the way home from work. Buy a good slow release fertiliser and then take 10 minutes applying it, following the dose described on the container. For most garden beds an all purpose fertiliser will be fine. If you have native plants, use a native plant specific fertiliser.
Report
Today's challenge was rather easy and took me less than 10 minutes, mostly because I do have fewer garden beds than the average home owner. Still, it should not really take too much more than 10 minutes to complete this challenge if you are using slow release fertiliser.
The best direction is to follow the application instructions on the back. What I tend to do though is take a handful of slow release fertiliser and loosely scatter it over the garden bed, making sure it spreads evenly. One handful would cover roughly 1 square metre, if not a little more. I used native slow release fertiliser on garden bed 1 since it has mostly native plants and an all purpose fertiliser on the rest, which mostly contain vegetables.
The reason I set this challenge
Sometimes I find people who simply don't fertilise because they feel like it is an incredibly big job. This is not true. If you use slow release fertiliser and you keep on the ball, following the application instructions in terms of how often to do it, it really can be a 10 to 20 minute job, depending on the size of your garden. Don't put off fertilising, it will strongly benefit your garden to keep it stocked up with nutrients, especially during the growing seasons in your climate.
Learn more about your Climate
This challenge fits under the category of 'Understanding Your Climate'. The system I follow suggests there are 3/4 climates in Australia as follows;
Cold Climate;
Temperate Climate;
Sub Tropical/Tropical Climate;
If you want to learn more about how climate affects the garden, chapter 2 of my ebook covers understanding your climate in much more depth. Find out how you can buy my ebook 'So You Want A Better Garden' here.
It's not too late to join the challenge! You can grow a better garden. Start today! The great thing about this challenge is it can run over any 30 day period. Just check out days 1-5 and start from today. You can grow better gardens.