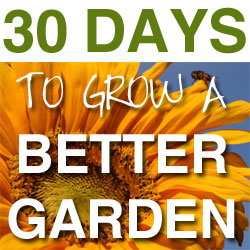 This month at AussieGreenThumb.com is 'So You Want A Better Garden' Month, which aims to help you grow better gardens. As part of that I am running a 30 day challenge. The challenge consists of daily tasks of about 10 minutes each. I guarantee that if you complete each days task, by the end of September you will be well on your way towards reaching your gardening goals and growing better gardens. Will you accept the challenge?
Day 10 Challenge Recap – Spend 10 minutes weeding your garden. Depending on the season, your garden may have lots of weeds or very few. As the seasons change take note of when weeds tend to pop up more and less. If you know a high weed season is coming you may want to make sure you have plenty of mulch to minimise them. If you know a low season if weeds is coming, you might feel more encouraged to pull them out when you see them because you know that will really make it difficult for weeds to grow.
Report
Another 10 minutes of weeding, another garden bed weed free! This time I focused on my front garden, the one visitors see when they enter the house. It was a smaller garden bed with a small to medium amount of weeds. That meant this challenge actually only took me about 7 minutes to finish this garden bed.
The reason I set this challenge
Now, with 20 minutes of weeding in the past week, I have managed to weed 3 of my garden beds. Obviously if you have bigger garden beds or if you haven't weeded in a while you may have achieved less. However, what I hope you have found is that you can actually get a lot of weeding done in 20 minutes and doing two, 10 minute weeds this becomes quite achievable.
Breaking weeding down into manageable chunks is the best way to keep yourself motivated to get stuck into it. Plus, once you have the garden weeded, a couple of 10 minute weeds each week will help to limit weeds taking over once again. The problem with weeding tends to be we just let it go, then don't want to spend hours getting it back to scratch. Break it down into sections and chip away at it. You'll be more likely to complete your weeding this way.
Keep an eye out for seasons in your climate where weeds might be more prevalent. You may need to increase how many 10 minute weeds you do each week to keep them under control but it will be well worth it in the long run, keeping your garden looking better for longer.
Learn more about your Climate
This challenge fits under the category of 'Understanding Your Climate'. The system I follow suggests there are 3/4 climates in Australia as follows;
Cold Climate;
Temperate Climate;
Sub Tropical/Tropical Climate;
If you want to learn more about how climate affects the garden, chapter 2 of my ebook covers understanding your climate in much more depth. Find out how you can buy my ebook 'So You Want A Better Garden' here.
It's not too late to join the challenge! You can grow a better garden. Start today! The great thing about this challenge is it can run over any 30 day period. Just check out days 1-5 and start from today. You can grow better gardens.