(Make sure you check out my most popular and helpful articles when you get a chance).
For the month of January I will be taking a look at 4 different varieties of the humble Kangaroo Paw. The Kangaroo Paw is one of my all time favourite plants and is a worthy feature plant for January!
Update: See also my review of the Green Machine, the Orange Gem and the Yellow Gem varieties, and my all time most popular post on how to prune kangaroo paws.
Here is the first variety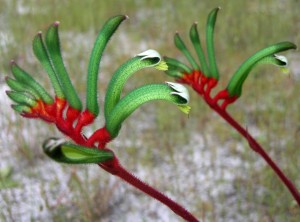 Genus: Anigozanthos
Species: manglesii
Common Name: Red & Green Kangaroo Paw
Flower Colour: Red & Green
Foliage Colour: Green
Growth Habit: Strap Leaf/Grass
Flowering: More Spring & Winter
The Anigozanthos manglesii is happiest in a position that receives full sun. When in good conditions this variety really thrives and will grow to have flowering stems up to 1 metre in height. This plant will usually last for a few flowering seasons, normally up to 3 or 4, but is not a bad idea to replace after the 2nd flowering season.
The bold red and green coloured flower really helps it stand out when mixed with other varieties but can also look absolutely fantastic if many of the same variety are planted together.
I once saw a great example of this just outside Kings Park in Western Australia. A whole batch, no less than 100 plants I would say, were planted close together on an island in the road and really made quite an impression on passing motorists.
A tip with any Kangaroo Paw is to remove the stems after flowering as this promotes new growth and speeds up the next batch of flowers.
Free download – Plant of the Month ebook
(Click here or click the image below to download)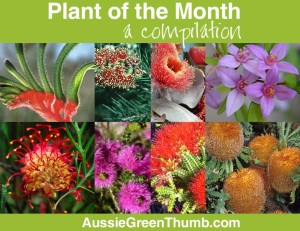 Thanks to Lullfitz Nursery for much of this information. If you want to buy this plant they regularly have it in stock so check them out!
So You Want A Better Garden?
All my best articles have been collected into what I'm calling the ultimate gardening toolkit – make sure you take a look, there's a heap of great gardening advice available.
I've also published a series of gardening ebooks that you might be interested in. Good luck!