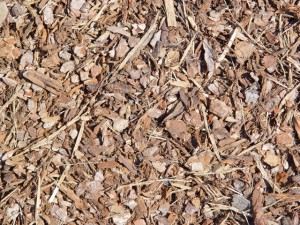 Today's report is about mulch. This month at AussieGreenThumb.com is 'So You Want A Better Garden' Month, which aims to teach you how to garden. As part of that I am running a 30 day challenge. The challenge consists of daily tasks of about 10 minutes each. I guarantee that if you complete each days task, by the end of September you will be well on your way towards reaching your gardening goals and growing better gardens. Will you accept the challenge?
Day 14 Challenge Recap – Do you have mulch on your garden beds? Take 10 minutes to see which garden beds still have a thick (10cm) layer of mulch and which need a top up. Mulch will limit weeds ability to grow and make your job easier. Top up your garden bed as required. It is a good idea to check your garden beds at the beginning of each season, so every 3 months. Keeping a healthy layer of mulch on your soil all year around will also help to improve your soil because as the mulch breaks down, it will become part of the soil and, again, improve soil structure much like manure does.
Report
I have a confession to make…my garden beds are horribly low on mulch. Yes, that is right, even I have trouble making sure I keep my garden beds with a healthy layer of mulch! One of the main topics I cover on this blog is mulching your garden and today's challenge has made me woefully aware of just how bad a state my garden beds are in at the moment, mulch wise.
Garden bed 1 has a moderate layer of mulch but this could do with a top up.
Garden bed 2 has no mulch but that is because I am still working on turning it into a garden bed after reclaiming it, untill recently it was paved.
Garden bed 3 has no mulch left.
All my vegetable garden beds have a limited layer of mulch from when I last planted. This really needs a top up.
My herb garden is bare, mulch is required.
This task will become a weekend job for me most likely as there is actually some significant work to do. However, the payoff will be a far healthier and better looking gardem!
The reason I set this challenge
If you were to ask me 'what one thing will most improve my garden' I would say mulch for the following reasons;
Mulched garden beds looks great;
Mulch helps to lock moisture in the soil, limiting evaporation;
Mulch helps prevent or significantly limit the growth of weeds;
Mulch breaks down adding organic matter to your soil.
As I mentioned above, my garden beds are not in a good state mulch wise at the moment but now, being the beginning of spring, is as good a time as any to catch up! I'd encourage you to do likewise.
Learn more about understanding your soil
This challenge, looking at mulch, falls under the category of understanding your soil. Intrigued to know more about how understanding your soil will impact on your garden? I recently released an ebook called So You Want A Better Garden. Chapter 3 in my ebook delves into the topic of understanding your soil in a way specifically designed to help beginner and intermediate gardeners understand more about how soil impacts on your garden. 
You will learn about;
1. What makes good soil;
2. How to improve your soil consistency;
3. Improving the water situation in your soil;
And much, much more!
It's not too late to join the challenge! You can grow a better garden. Start today! The great thing about this challenge is it can run over any 30 day period. Just check out days 1-5 and start from today. You can grow better gardens. Make sure your garden beds have sufficient mulch today.