Hi there, thanks for checking out Aussie Green Thumb, I appreciate it. If you want more, click here for all my best advice, exclusive content and FREE bonuses!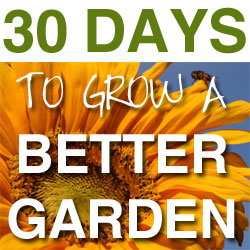 This September at AussieGreenThumb.com is 'So You Want A Better Garden?' month. This month I will be focusing on helping you step forward to meet your gardening goals. I realise though that for many people the task of improving your garden seems monumental.
Hopefully you have kept up with the simple challenges so far. My goal is that each challenge will take no more than 10 minutes per day.
Here are the next 5 tips!
Days 16 to 20 – Buying Gardening Tools
16. Take an inventory of your garden shed or space. What garden tools do you have? What garden tools would you like? What tasks have you found hard without garden tools? Having the right garden tools will go a long way towards helping you to grow a better garden.
17. If you have tools like secateurs, hedge trimmers or loppers check and see how sharp they are. Try and find an old or dead tree or bush limb and cut it off. You should get a smooth cut. If your tool struggles to cut cleanly you have a blunt tool. Sharp tools help limit plant diseases. There are a few methods to sharpen tools. Some business' offer tool sharpening as an option. Another option is to buy a tool sharpener. A third method, which is actually what I use, is to buy a good, small metal file. You have to be a little careful with this because you can actually make the tool worse, but even then you can usually fix it. Just try and file to the angle of the blade. If you are not confident doing this, try either method 1 or 2.
18. Remove any more dead flowers from your plants. Make sure you use a sharp tool. Removing dead flowers will help to encourage your plants to flower again if possible. Using a sharp tool is important though because you don't want to open your plant up to disease. Plants heal best from good, clean cuts which come from sharp tools.
19. If you have a hedge or plants you are trying to turn into a hedge, use your hedge sheers to give them a light trim/shaping. If they are flowering, consider waiting until they finish. Most hedge plants can handle regular light trims to keep them in shape. If you don't have hedge shears, either go and buy some or start to budget towards buying them, they are a very important gardening tool. Scissors don't cut it on the big scale!
20. Consider buying a weeder to remove dandelions from your grass. If you have a weeder, spend 10 minutes removing as many dandelions and other weeds as you can from your grass. This is a way of removing weeds and minimising the amount of chemicals that you have to use on your garden. Some grasses, like buffalo types, don't handle the weed and feed poisons and that means the manual method really is your best bet.
Now here's a bonus tip: I've also released a Buying Garden Tools series, where I break down the 8 most important gardening tools, what to look for, how much to spend, and more. Check it out here!
Stay tuned for the next 5 tips which will all be to do with Common Garden Tasks.
For all the '30 days to grow a better garden' series, follow these links:
30 days to grow a better garden: part 1
30 days to grow a better garden: part 2
30 days to grow a better garden: part 3
30 days to grow a better garden: part 4
30 days to grow a better garden: part 5
30 days to grow a better garden: part 6
Intrigued to know more about how buying the right garden tools will impact on your garden? Chapter 4 in my ebook delves into the topic of buying gardening tools in a way specifically designed to help beginner and intermediate gardeners know what to look for when buying gardening tools and getting to know which garden tools are most important.
You will discover;
1. The top 8 tools I believe every gardener should own;
2. What to test on a tool to make sure it is good quality;
3. A rough price range to consider when buying garden tools.
And much, much more!
So You Want A Better Garden?
Click here to read more about what my ebooks have to offer you, or to buy and help support this website (thank you so much).
All my best articles have been collected into what I'm calling the ultimate gardening toolkit – make sure you take a look, there's a heap of great gardening advice available.