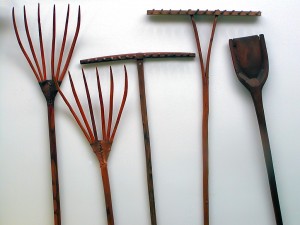 Today's report is about garden tools. This month at AussieGreenThumb.com is 'So You Want A Better Garden' Month, which aims to teach you how to garden. As part of that I am running a 30 day challenge. The challenge consists of daily tasks of about 10 minutes each. I guarantee that if you complete each days task, by the end of September you will be well on your way towards reaching your gardening goals and growing better gardens. Will you accept the challenge?
Day 16 Challenge Recap – Take an inventory of your garden shed or space. What garden tools do you have? What garden tools would you like? What tasks have you found hard without garden tools? Having the right garden tools will go a long way towards helping you to grow a better garden.
Report
It may surprise you to know that, apart from the basic garden tools I actually have very few garden tools. This is mostly because I myself am slowly building my own gardening tool kit. I want to have good quality garden tools so it is taking time to actually acquire what I want.
I will be honest with you for a minute. About 2 years ago now I had to start again from scratch for various reasons. At that time I needed all the basic garden tools to get my garden business going so I started with mostly borrowed or cheap tools. My intention always was, and still is, to slowly replace my cheaper garden tools with better quality ones. I've had a bit of luck along the journey and stumbled onto some very good garden tools for free but mostly I am slowly stockpiling the quality that I want which, on the whole, will last me quite a long time.
So to actually answer the challenge, here is what I have in my garden tool repertoire;
Garden Rake
Garden Shovel (no spade, I just use the shovel)
Hedge Shears
Garden Loppers
Bypass Secateurs
Pruning Saw
Trowel, Fork & Weeder
Electric Hedge Trimmer
Garden broom (needs a new handle)
Extendable pruning lopper (needs repair)
Garden Fork
Lawn mower
Brush cutter
Basically, I have all what I would call 'essential' tools. My plan is to slowly replace the cheaper garden tools of these that I have with good quality, long lasting ones. Then I might start to invest in a few specialty garden tools, like a chainsaw or electric mulcher etc. For now though, what I have well and truly does the job for what I need.
The reason I set this challenge
It is important for you to know what garden tools you have and what tools you perhaps lack. Sure, not everyone can afford to go out and buy the full repertoire from the get go but if you at least know what you need eventually, you can budget and work out when it might be viable. Though I always recommend you buy quality, you may wish to copy what I have done and buy cheaper for now and then replace with quality as required. This is the more expensive option. It is cheaper to just buy quality from the start but, like most people, you may not be able to afford this so buying cheaper to start might be the right way for you.
Learn more about buying gardening tools
This challenge fits into the category of buying gardening tools. Intrigued to know more about how buying the right garden tools will impact on your garden? I recently released an ebook called So You Want A Better Garden. Chapter 4 in my ebook delves into the topic of buying gardening tools in a way specifically designed to help beginner and intermediate gardeners know what to look for when buying gardening tools and getting to know which garden tools are most important.
You will discover;
1. The top 8 tools I believe every gardener should own;
2. What to test on a tool to make sure it is good quality;
3. A rough price range to consider when buying garden tools.
And much, much more!
It's not too late to join the challenge! You can grow a better garden. Start today! The great thing about this challenge is it can run over any 30 day period. Just check out days 1-5 and start from today. You can grow better gardens. Take an inventory of your garden tools today!