Hi there, thanks for checking out Aussie Green Thumb, I appreciate it. If you want more, click here for all my best advice, exclusive content and FREE bonuses!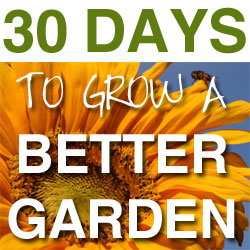 This September at AussieGreenThumb.com is 'So You Want A Better Garden?' month. This month I will be focusing on helping you step forward to meet your gardening goals. I realise though that for many people the task of improving your garden seems monumental.
Hopefully you have kept up with the simple challenges so far. My goal is that each challenge will take no more than 10 minutes per day. Connect with AussieGreenThumb.com on Facebook (search for Aussie Green Thumb)  or follow AusGreenThumb on Twitter to make sure you don't miss any tips!
Here are the next 5 tips!
Days 21 to 25 – Common Garden Tasks
21. Check your plants for pests and diseases. Is there any sign of plants being eaten? Can you see anything that just does not look like it should be on a plant? If you have roses, are they covered in little black bugs? If you are unsure what the cause of your plant problem is, take a photo and show your local nursery horticulturalist. They are usually willing to help you identify the problem and can give suggestions for solutions and they can usually sell you what you need to fix it.
22. Apply some slow release fertiliser to any garden bed you have not gotten to yet. Adding slow release fertiliser is the most time effective method because it will continue to fertilise your garden beds over a period of time. Check the back of the package of fertiliser you get for how often you need to re-apply but you can often get away with applying it once every season.
23. Continue to remove dead flowers from your plants. Getting in the habit of just cutting off flowers as needed will make this task a far quicker and simpler job than waiting for the whole plant to finish flowering. Sure, at the end of flowering it is recommended that you give your plants a trim, so it could wait till then but your plant isn't encouraged to flower again.
24. Lightly prune any plants that have finished flowering. Prune any plants that you are trying to keep to a certain shape or size. Small regular prunes cause less stress to plants than big prunes. Some plants, like roses, like a solid prune once a year but over all, most bush or hedge like plants are better of with small, regular prunes to keep them in shape.
25. Spend 10 minutes weeding a garden bed you have not gotten to yet or one which needs it most. Perhaps spend the first couple of minutes quickly picking out any new weeds growing in the beds you already have weeded. Hopefully, depending on the size of your garden, you are started to get the weeding under control. If you still have a long way to go to get to that point, don't fret. Just keep doing 10-20 minutes of weeding every few days until you get it under control, then work out how often it needs to be.
Stay tuned for the next 5 tips which will all be to do with Choosing the Right Plants.
For all the '30 days to grow a better garden' series, follow these links:
30 days to grow a better garden: part 1
30 days to grow a better garden: part 2
30 days to grow a better garden: part 3
30 days to grow a better garden: part 4
30 days to grow a better garden: part 5
30 days to grow a better garden: part 6
Intrigued to know more about how getting into a rhythm with common gardening tasks will improve your garden? Chapter 5 in my ebook delves into the topic of common garden tasks in a way specifically designed to help beginner and intermediate gardeners learn the natural rhythm of gardening.
You will discover;
1. What the most common tasks you will do in the garden are;
2. How to go about doing tasks such as weeding, pruning, mulching etc;
3. Tips on waterwise gardening.
And much, much more!
So You Want A Better Garden?
Click here to read more about what my ebooks have to offer you, or to buy and help support this website (thank you so much).
All my best articles have been collected into what I'm calling the ultimate gardening toolkit – make sure you take a look, there's a heap of great gardening advice available.