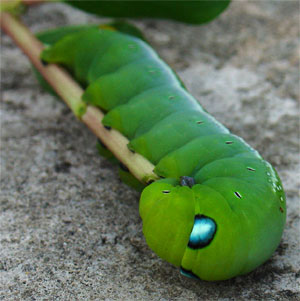 This month at AussieGreenThumb.com is 'So You Want A Better Garden' Month, which aims to teach you how to garden. As part of that I am running a 30 day challenge. The challenge consists of daily tasks of about 10 minutes each. I guarantee that if you complete each days task, by the end of September you will be well on your way towards reaching your gardening goals and growing better gardens. Will you accept the challenge?
Day 21 Challenge Recap – Check your plants for pests and diseases. Is there any sign of plants being eaten? Can you see anything that just does not look like it should be on a plant? If you have roses, are they covered in little black bugs? If you are unsure what the cause of your plant problem is, take a photo and show your local nursery horticulturalist. They are usually willing to help you identify the problem and can give suggestions for solutions and they can usually sell you what you need to fix it.
Report
The main plants that I have to keep an eye on regarding pests are my vegetables. My native plants very rarely, if ever experience any trouble with pests but I have to keep a constant vigil with my vegetables because insects like snails, slugs and caterpillars are always cropping up.
A little while back we had a real problem with caterpillars. They were getting to all my new vegetable seedlings and stripping them bare. Thankfully I know that most caterpillar varieties from my area strongly dislike the smell of marigold plants so I have been able to plant a few marigolds around the most targeted plants. This both repels the caterpillars and makes my vegetable garden even more beautiful.
I've also had a few aphids around this season but I treat that with various vegetable garden powders and sprays. This is not an organic approach but is the approach I choose to use. The organic approach is to either use companion planting, like the above marigold example, or make natural sprays. A quick google search should help you find a recipe for an organic pest spray.
The reason I set this challenge
Pests and disease can absolutely ravage your plants if you don't keep an eye on them. Often times pests actually pick on the 'weaker' plants. You might have two lettuce plants and one is full of pests while one isn't touched. This means pests can be useful in helping you know when a plant needs some tender loving care, but you still need to rid the pests to help them survive. Keeping an eye out as you do your usual tasks is the best way to catch pests or diseases early and treating them quickly is a good idea. If you are stumped, take a photo and ask your local nursery if they can help you identify the problem. Do not take the affected plants in or you could contaminate the nursery!
Learn more about common gardening tasks
This challenge fits into the category of common gardening tasks. Intrigued to know more about how getting into a rhythm with common gardening tasks will improve your garden? I recently released an ebook called So You Want A Better Garden. Chapter 5 in my ebook delves into the topic of common garden tasks in a way specifically designed to help beginner and intermediate gardeners learn the natural rhythm of gardening.
You will discover;
1. What the most common tasks you will do in the garden are;
2. How to go about doing tasks such as weeding, pruning, mulching etc;
3. Tips on waterwise gardening.
And much, much more!
It's not too late to join the challenge! You can grow a better garden. Start today! The great thing about this challenge is it can run over any 30 day period. Just check out days 1-5 and start from today.