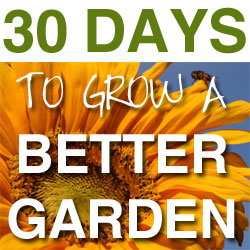 This month at AussieGreenThumb.com is 'So You Want A Better Garden' Month, which aims to teach you how to garden. As part of that I am running a 30 day challenge. The challenge consists of daily tasks of about 10 minutes each. I guarantee that if you complete each days task, by the end of September you will be well on your way towards reaching your gardening goals and growing better gardens. Will you accept the challenge?
Day 30 Challenge Recap – Take a quick trip to your nursery and have a look at what annual plants they have in stock. Perhaps look to add one or two to your garden. Annual plants add vibrancy to your garden. There are annuals for every season, however Spring to Autumn are the best seasons for growing annual plants.
Report
Now that I have planted a rosemary plant in my unused garden bed, I could easily complement it with a few annuals. I'm very seriously contemplating adding some snap dragons and/or petunia's around the base of it. This would transform this unused garden bed into one of the more beautiful garden beds at my house, all for less than $20! Not a bad effort really.

The reason I set this challenge
Though building a garden around perennial plants is the best way to produce and easy to manage, long term garden, adding a few annual plants each spring will give you at least one season of awesome beauty. The great thing about annuals too is that they tend to be cheap and, as you are not making a long term garden decision, you can change up the annuals you plant in any given season. One year you might want a whole garden bed of different colour petunia's. Next season you might mix some viola's in. You might also add some snap dragons or marigolds. Experiment a bit and see what you like.

Learn about choosing the right plants

This challenge fits into the category of choosing the right plants. Intrigued to know more about how choosing the right plants will improve your garden? I recently released an ebook called So You Want A Better Garden. Chapter 6 in my ebook delves into the topic of common garden tasks in a way specifically designed to help beginner and intermediate gardeners learn how to choose which plants to grow.
You will discover;
1. What are annual plants?
2. What are perennial plants?
3. Should you plant seeds or seedlings?
4. Why should you consider native plants?
And much, much more!
It's not too late to join the challenge! You can grow a better garden. Start today! The great thing about this challenge is it can run over any 30 day period. Just check out days 1-5 and start from today.