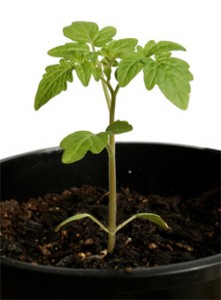 This month at AussieGreenThumb.com is 'So You Want A Better Garden' Month, which aims to teach you how to garden. As part of that I am running a 30 day challenge. The challenge consists of daily tasks of about 10 minutes each. I guarantee that if you complete each days task, by the end of September you will be well on your way towards reaching your gardening goals and growing better gardens. Will you accept the challenge?
Day 28 Challenge Recap – Do you want to plant from seeds or seedlings? Do some research to discover the pro's and con's of each. Most perennials need to be seedlings or mature plants for best results but many annuals and vegetables will grow well from seed.
Report
I've personally never been a very big fan of seeds. No real reason for this other than laziness to be honest. Planting vegetables from seed is clearly the cheapest option and can provide you with plenty of plants, however I've always preferred to buy just the amount of seedlings I am interested in and work from there. As far as annuals go, I also always use seedlings, again because I can just buy the amount I want. I once did plant a set of rockery style annual seeds which took over that garden bed well. Just don't usually do it. Perennials I always plant as a small shrub or a cutting. Growing perennials from seed is often either very difficult or, with some hybrid varieties, impossible. Much easier to buy a small, mature plant and add that to my garden.
The reason I set this challenge
Even though I don't plant from seeds this does not mean you should not. I know people who cultivate their entire vegetable crop in seedling trays leading into each season. This is something I'd be interested in doing in the future. Planting from seeds can also very much be cheaper. The reason I want you to think about this is simply because you may never have considered the alternative. It is one thing to 'always' plant from seed or seedling, but it it another to know why you do that. I do it because I find it easier, but is finance was an issue then planting from seed may be a better option.
Learn about choosing the right plants

This challenge fits into the category of choosing the right plants. Intrigued to know more about how choosing the right plants will improve your garden? I recently released an ebook called So You Want A Better Garden. Chapter 6 in my ebook delves into the topic of common garden tasks in a way specifically designed to help beginner and intermediate gardeners learn how to choose which plants to grow.
You will discover;
1. What are annual plants?
2. What are perennial plants?
3. Should you plant seeds or seedlings?
4. Why should you consider native plants?
And much, much more!
It's not too late to join the challenge! You can grow a better garden. Start today! The great thing about this challenge is it can run over any 30 day period. Just check out days 1-5 and start from today.