Hi there, thanks for checking out Aussie Green Thumb, I appreciate it. If you want more, including a free buyers guide to my favourite gardening tools, click here for all my best advice, exclusive content and FREE bonuses!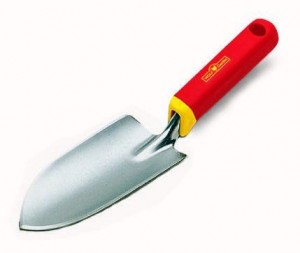 What is a garden trowel you might ask? Isn't that a picture of a hand shovel? Well, it all depends! I actually had a hard time 'naming' this post because if there is a garden tool that has many names then what I've grown up calling a 'little' shovel is it! Hand shovel, trowel, little shovel, little spade, digger, this tool has many various names. However what they all have in common is that they refer to one of THE most important tools in a gardeners shed. Whether it be digging up weeds or planting new plants, you won't get too far without using a hand shovel.
But WHAT makes a good garden trowel? What should you be looking for when you go down to your local gardening tools shop to purchase a hand shovel? Does it really matter which one you buy?
There are basically only two parts to a hand shovel, the handle and the blade and both are very important considerations when looking to buy a trowel. Many people go out and buy a cheap garden trowel, take it home, start digging and find that the blade is as malleable as the soil they are digging in! Though a garden trowel with a warped blade can usually still do the job, it isn't nearly as efficient. To ensure a long lasting trowel blade make sure you buy a trowel with a blade made of metal, not plastic. Steel blades are the best but I have had some success with blades made of an aluminium allow. This all depends on the composition of aluminium to allow. What I do to test them is i place a little force on the blade to see how strong it 'feels'. Be careful obviously because you don't want it to actually BEND in store, you can usually get a feel for the strength of the blade without actually damaging it.
When it comes to the handle as far as I am concerned it is all about comfort. You will likely spend many an hour in the garden with your trusty garden trowel in hand, you want it to be comfortable. This also takes into account why you shouldn't buy a plastic handles trowel, it isn't very strong and they don't tend to be high on the comfort stakes. A good rubber coated metal handle I find to be best, though there are a few other coverings to metal handles you might find and they are normally ok as well. Try and find a trowel that has grooves in place for your fingers and check the grooves match your hand. Having said this some people prefer a handle without grooves. The key here is choosing one that feels comfortable to you.
As far as cost goes, the best trowel I have ever had actually only cost $10. Trowels are one tool I know many people have had luck with at cheap prices. As per usual though, spending more around that $30-$50 price range will increase your chances of your chosen garden trowel lasting your lifetime.
Aussie Green Thumb garden tool buying guides:
Buying guide: Shears
Buying Guide: Secateurs
Buying Guide: garden rake
Buying Guide: loppers
Buying Guide: garden trowel
Buying Guide: spades and shovels
Buying Guide: pruning saw
Buying guide: garden fork
So You Want A Better Garden?
All my best articles have been collected into what I'm calling the ultimate gardening toolkit – make sure you take a look, there's a heap of great gardening advice available. I've also published a series of gardening ebooks that you might be interested in. Good luck!