Hi there, thanks for checking out Aussie Green Thumb, I appreciate it. If you want more, including a free buyers guide to my favourite gardening tools, click here for all my best advice, exclusive content and FREE bonuses!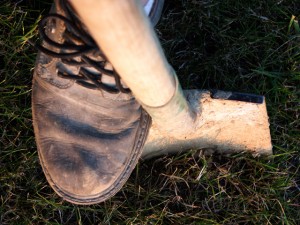 Spades and shovels are one of the most used tools when it comes to gardening. They serve a variety of purposes from breaking soil to shifting compost, from mixing concrete to shoveling leaves. What has always amazed me though is many peoples inability to name a spade a spade. Even I, up until about the age of 15, didn't really 'get' the difference between a spade and a shovel so let me clear up the difference first. In doing so it must be pointing that these are 'general' guidelines. The reason why spades and shovels get confused is because there is often very little difference but here are some fairly common differences. Let's take a look.
What makes a spade?
A spade generally has a relatively flat blade. Spades generally have straight edges and also usually have shorted handles to shovels. Spades are better suited to moving things, like soil, sand, mulch than they are to digging. This sometimes seems counter intuitive because a spades blade is generally smaller than a shovel and you would think bigger blade equals better moving capacity. The problem with this is sometimes moving bigger piles means more strain. Small handles and a smaller blade allow for more efficient moving, causing you to tire slower and lessen the risk of injury. Spades are also good for defining edges given most spades have a straight blade.
What makes a shovel?
A shovel usually has a longer handle, though short handle varieties are available. Shovels usually have a rounded or pointed blade, though the 'square blade' shovel is growing in popularity. Shovel blades are generally wider than a spade and are capable of moving more soil in one go, but as mentioned before this isn't necessarily always good. Shovels are the tool of choice for digging deep holes, hence the long handles and this is also the main reason behind having a larger blade.
What to buy first?
Different gardeners will recommend different things but my recommendation is to buy a spade first. Spades tend to be more versatile than shovels and are easier to use in tight spaces. Also, unless you plan to dig holes a metre or deeper a spade will do the job for you. Shovels are more specialised tools, spades more general.
Cost
If there is one tool that I recommend you splurge a bit on then it is when you buy a spade and/or a shovel. This is one tool that you really want to be purchasing 'for life'. I grew up using the same spade that my Dad bought at a young age. He still owns and uses that spade today. Spades and shovels are one of the most commonly used tools and the jobs they are used for are almost always heavy duty, occasionally being used to 'shift leaves'. It is for this reason you want a solid spade or shovel without even the smallest bit of plastic. If I have $1 for every time I have been using a spade with a plastic handle, and tried to dig the simplest of holes only to have the handle break then I possibly would not need to run a gardening business! Ok, so that is a bit dramatic but you get the point.
When shopping look for good quality steal or carbon fibre strengthened spades and shovels. Check anywhere there is a joint. Try flexing the handle and ascertaining where you think weak spots might be and how weak they appear under just a small amount of strain.
A good spade or shovel will quite possibly be upwards of $60 but it will be the best $60 you spend on a gardening tool, period.
Aussie Green Thumb garden tool buying guides:
Buying guide: Shears
Buying Guide: Secateurs
Buying Guide: garden rake
Buying Guide: loppers
Buying Guide: garden trowel
Buying Guide: spades and shovels
Buying Guide: pruning saw
Buying guide: garden fork
So You Want A Better Garden?
All my best articles have been collected into what I'm calling the ultimate gardening toolkit – make sure you take a look, there's a heap of great gardening advice available. I've also published a series of gardening ebooks that you might be interested in. Good luck!