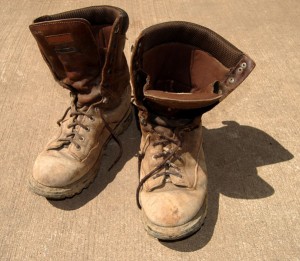 Hi there, thanks for checking out Aussie Green Thumb, I appreciate it. If you want more, including a free buyers guide to my favourite gardening tools, click here for all my best advice, exclusive content and FREE bonuses!
What do you like to wear when you are out and about in the garden? What feels comfortable? Do you have designated attire or do you just wear whatever you were in? I myself think that what you wear in the garden is as important as the tools you choose to use. Choosing the right attire can make the difference between an efficient job and a prolonged effort.
This was again proven to me today. I only do gardening as a part time job and I work it around another position. When I started today I had no gardening work to do so I didn't take my tools with me and didn't take my usual gardening attire. During the day a friend called with a bit of a predicament that required immediate attention and as I had some time I offered to get right on it. Now I can say that I well and truly got the job done but had I been prepared it would have been much easier. Instead of wearing work boots I had a on a pair of casual shoes. Instead of wearing gloves I had to go bare handed and instead of good, solid garden clothing I had on relatively good shorts and shirt.
Sometimes this would not be a problem but as the job today involved a lot of digging it made a big difference. Because I had no gloves on I now have a number of blisters. I spent a lot of time emptying my shoes of sand and the shoes themselves were not great when it came to putting pressure down on a shovel. As I said, I got the work done but it was not as easy as if I had the right attire.
So what attire should you use in the garden. Well the main things I would recommend are a good, quality pair of boots or at least an old pair of solid sporting sneakers. If you will be using tools in a repetitive motion, such as digging, gloves will minimise rubbing between your skin and the tool which will, in turn, minimise the risk of blisters. I also recommend you wear some old clothes because they will likely get dirty. A wide brimmed hat will not only protect you from the sunburn but can help take some of the force out of a hot sun bearing down on you which can cause difficulty without burning. Make sure the clothes you choose are comfortable and lose, if you are working hard you will likely sweat and there isn't much worse than tight clothes sticking even closer to your skin. Make sure you have water and sunscreen and use both liberally.
Choosing the right attire may well be the difference between a one hour job and a two hour job so choose wisely!