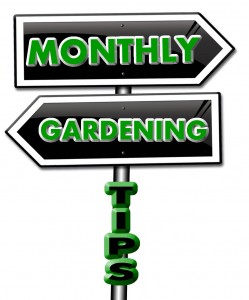 March truly marks a transitional period in the garden. Though the weather can still be very warm in March, as it really has been in Perth during February,March is the month where the temperature does start to head south a little, especially overnight. This generally makes the garden a cooler place in the morning which makes many gardeners much happier people to be around. Though this brings many benefits to your gardens, one of the draw backs is that the more mild temperatures make your garden a great environment for bugs, particularly caterpillars! Keep an eye out throughout March for bugs trying to take over your plants that have fought hard to survive all summer. Treat quickly when found.
With March also marking the beginning of autumn it is a good time to start thinking about what you want in your garden in spring and what needs to happen for that. Yes, winter comes and goes first but a top spring showing requires forethought. From about Mid-March to May you'll want to get any winter/spring flowering bulbs in the ground, so perhaps start preparing your bulb garden beds now so that they are ready to go when the time is right.
If you have been putting off mulching then now is as good a time as any to make sure your garden has at least has a little mulch above the top soil. Even if you did mulch this summer, you may find you need to give it a light top up as a lot of mulch may have broken down already. You could probably get away with a smaller mulching now given that most of the hot weather is behind us and you'll want good drainage in winter. The upside to laying a good layer of mulch now is that it will minimise how much you need to add when it comes time for next spring and summer.
You can also start planting some of your more winter friendly vegetable types, such as broccoli, cauliflower and cabbage. This is also a really good time to try your hand at growing your own garlic as opposed to always buying it from the shops. Winter lettuces will also thrive throughout autumn and winter. Planting some spring onions now would also be a good idea. Growing my own spring onions was one of the best decisions I ever made. I only planted a few seedlings and they grew and grew and supplied me with all the spring onion that I needed for a long time. You can also often get away with buying some spring onions from the supermarket provided they still have the roots, and planting them. They do not always survive but this is how I often go with spring onion. The big upside is you can start harvesting now as the plant is already mature. March is also a good month for sowing carrot, spinach, broad beans and peas. Also, your Asian leaf and root vegetables would do well to be sown in seed form sometime this month.
Finally a bit of house keeping could be in order. If you have perennials that have taken over your garden in spots over summer and are coming to the end of their flowering season, consider giving them a good trim or even dividing them and planting them separately. Some perennials do this better than others, the best way I've found to learn is by trial and error so give it a go. Just try to remember, try and leave one section of the plant as undisturbed as you can while removing and transplanting the other section. This tends to help both plants survive the separation process.