(Make sure you check out my most popular and helpful articles when you get a chance).
Have any of you raced out and purchased a Kangaroo Paw yet? Last week I reviewed the Red & Green variety of Kangaroo Paw. This week we look at a variety commonly called Orange Gem
Update: See also my review of the Green Machine and the Yellow Gem varieties, and my all time most popular post on how to prune kangaroo paws.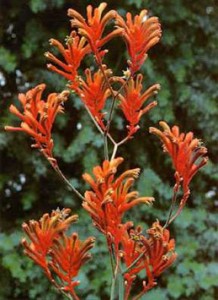 Genus: Anigozanthos
Species: flavidus
Common Name: Orange
Flower Colour: Orange/Red
Foliage Colour: Green
Growth Habit: Strap Leaf/Grass
Flowering: Summer & Spring
The Anigozanthos flavidus actually comes in a few different sub-species but the best sub-species boats beautiful orangey red flowers, so that is the variety that I am recommending.  This variety is generally smaller than manglesii, normally growing no higher than 50cm so if you are planting it together with that variety it is best to be placed on the outside. This variety makes for an absolutely fantastic border plant as well, especially along the side of a path from your front gate to your front door. Attracts birds, in particular the honey eater. I have grown this variety and have always been very happy with the results. The fact that is also has a slightly different flowering season to the manglesii means if planted together (perhaps with some other varieties as well) you are increasing the chances of having at least a few of your Kangaroo Paws flowering at any given time of the year!
Thanks to Lullfitz Nursery for much of this information. If you want to buy this plant they regularly have it in stock so check them out!
So You Want A Better Garden?
All my best articles have been collected into what I'm calling the ultimate gardening toolkit – make sure you take a look, there's a heap of great gardening advice available.
I've also published a series of gardening ebooks that you might be interested in. Good luck!