I have said before in this series that my gardening blood goes a long way back. This months 'My Gardening Story' is all about my great-grandmother Eileen Croxford. Much of this information comes from a biography written about her, which can be found here.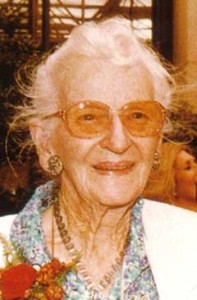 Eileen Croxford
Here are links to all other topics covered in the My Gardening Story series:
Summary and free ebook
The beginnings
Grandma Middleton
Grandma Tysoe
'Nan' Croxford
My Parents
My First Garden
Plants I grew up growing, Part 1
Plants I grew up growing, Part 2
Plants I grew up growing, Part 3
Growing Vegetables
Starting Aussie Green Thumb: Part 1 – The Business
Starting Aussie Green Thumb: Part 2 – Starting the Blog
How I Became Aussie Green Thumb
My nan was born on the  11th of December, 1912 in Mannamead, Plymouth, Devon, England. They migrated to Western Australia, in particular, a little town called Denmark, in 1924 as part of a group settlement scheme.
From the biography
"We just lived in these shacks – no floor, no doors, no windows. I was
out to work by the time I was 12. I was 20 when I got married and
then I proceeded to have a family. Then the war came, my husband
went away to Japan and didn't come back again".
My Nan was always very interested in wildflowers. I remember visiting her house in Albany as a child many times and just being amazed at the scale of natural wilderness that she created around her. She owned 2-3 blocks next to each other and each one was absolutely covered in such amazing colours and a vast array of plant varieties. Sadly as time went by I saw her being able to tend to less and less of this amazing garden, but she never lost her passion. I go past the old place now, the extra blocks have been sold off and concrete rules the roost around brick houses. It is almost sad to see the beauty that once reigned replaced so easily.
Before she lived in the house mentioned above, she lived near the Albany Airport, which is where she really started to learn about the local flora. She taught herself the botany of the local plants and also started the local Wildflower Society branch. More than 7,500 of her own collections are now housed in the state herbarium.
More from the biography
"I have always had a garden and I had a little business called the Garden Florist over the telephone. When I shifted to the Albany airport in 1961 I had to have a garden there, so I thought I will have a wild flower garden because I can remember the airport before it really was a proper airport and it was just a field of flowers – it was beautiful. So I used to go over to the back of the airport, very carefully remove little plants and plant them in the beds. They all died, so I decided I had to do it properly: I had to really learn about these flowers so I could grow them, and I started pressing flowers. Dr John Beard came to the airport one day, and I said to John, "Will you help me with these names?" He helped me a bit and said, "Eileen you must not stop doing this – there are no plans in this government to do any research into the Albany region until 1995. Because you are so interested in wildflowers, how about you convene a meeting to form an Albany branch of the West Australian Wildflower Society".
Well, I did this, not expecting very many people, and nearly 40 people turned up and we went on from there. That was 1963."
Nan Croxford's love of plants lives on through her children, especially her daughter Hazel and granddaughter Sue, who run and are involved in the business Everlasting Concepts which "works with local shires, property developers, government departments and the industries of horticulture and landscaping. "
It seems everywhere I turn, I discover more and more people in my family who are absolutely obsessed with the beauty of nature!