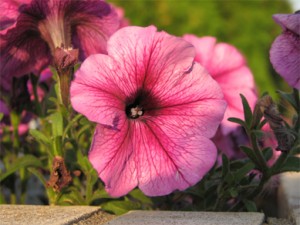 My passion for gardening really did start at quite a young age. I spent a lot of time in the garden with my Grandma Middleton and also with my parents. However it was not until I was around 9 years old (which is still quite young, really) that I got started with my very own garden.
Here are links to all other topics covered in the My Gardening Story series:
Summary and free ebook
The beginnings
Grandma Middleton
Grandma Tysoe
'Nan' Croxford
My Parents
My First Garden
Plants I grew up growing, Part 1
Plants I grew up growing, Part 2
Plants I grew up growing, Part 3
Growing Vegetables
Starting Aussie Green Thumb: Part 1 – The Business
Starting Aussie Green Thumb: Part 2 – Starting the Blog
How I Became Aussie Green Thumb
My parents bought a house in Albany in 1994 and not long after we moved in, I staked a claim for a piece of dirt in the backyard. It was probably about 3 metres long by 1 metre wide and didn't really serve a purpose at the time. It had infact been a gap between a fence and the garage but we quickly knocked the fence over because it wasn't very stable. As such, this space was opened up and I was happy to claim it as my own.
At this stage I hadn't been introduced to the world of Australian Native Plants and so my very first garden generally consisted of your everyday cottage garden type plants. I experimented with impatients, petunias, marigolds, vincas, carnations, etc. I also planted various varieties of roses such as Iceberg, Double Delight and Just Joey. As much as I would like to lay claim to doing a lot of work in this garden…a lot of credit has to go to my parents who actually did most of the work; I just called it my garden. Still, every spring I would go with my parents to the local nurseries, help them pick out the plants and then go home and plant them myself, it was just the ongoing maintenance (and dreaded weeding) which my parents mostly kept in check.
The experimenting that I did in my very first garden really helped to lay the foundations for my current green thumb. I learned all about soils and the nutrients required to grow healthy plants. I worked out that building a mound around plants helped to direct the water to their roots. I learned about plant spacing after I made the mistake of planting two daises so close together that they virtually forever looked like one plant, even when they were covering a square metre of space! I really enjoyed the time that I did spend in this garden and credit my parents with allowing me to have this space. Every other garden space was always majestic and wonderful, whereas mine went through phases of looking magnificent and phases of being entirely dilapidated. Still it was only because I was enabled and encouraged to give gardening a go that I grew the passion and skills that I now possess.
What about you? Do you have children? Do they have a space they can call their own? I'm a firm believer in reclaiming the lost art of gardening in our next generation so why don't you help out by encouraging your own children to put the computer game controller down and get out amongst the dirt?