So far in this series, I have talked about the key people in my gardening journey and, last month, I talked about growing vegetables growing up. Another key part of my gardening journey has been the choosing, growing and planting of various different annual and perennial plants to supplement my parent's gardening ambitions.
Here are links to all other topics covered in the My Gardening Story series:
Summary and free ebook
The beginnings
Grandma Middleton
Grandma Tysoe
'Nan' Croxford
My Parents
My First Garden
Plants I grew up growing, Part 1
Plants I grew up growing, Part 2
Plants I grew up growing, Part 3
Growing Vegetables
Starting Aussie Green Thumb: Part 1 – The Business
Starting Aussie Green Thumb: Part 2 – Starting the Blog
How I Became Aussie Green Thumb
This month I want to look at two mainstays of the Australian cottage garden, which I have had a lot to do with over the years: the humble petunia and marigold.
The humble petunia is found in countless gardens around Australia and, in fact, the world. It is one of many plants whose scientific name has also become its common name. Petunia is the 'genus' and then the different varieties of petunia have different species names. Historically the petunia is native to South America but the varieties that we have today are a far cry from those first discovered in the 1700's to 1800's. The dazzling colours and ability to grow in almost any climate have been bred into today's petunia's which are basically all hybrid species.
Growing up I loved to have as many different varieties of petunia as I could. I was captured by their stunningly brilliant colours; the way the colours almost seemed to dance across the flower. Purples flowing into whites flowing into yellows; it seemed every colour in the rainbow was represented by some variety of petunia. They were also great plants for a young one to grow because they seemed to be quite easy plants to look after and, in the good years, would spread across my first garden with ease. Though I now focus more on Australian Native Plants, I have fond memories of my times growing petunia's and they do still occasionally find their way into a plot in my yard.

Marigold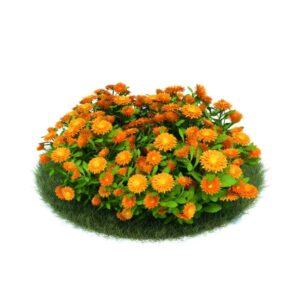 Another famous annual that I grew up growing is called the Common Marigold or Calendula officinalis cvs. This is another annual variety that is found in gardens almost all over Australia, the only exception really being the tropics where it doesn't tend to grow well. Everywhere else, it seems that everyone wants to get in on the action with nurseries stocking themselves with various varieties of Marigold.
As a child, I really enjoyed growing the Common Marigold because I absolutely loved the flower. To me, it almost looked like a really big daisy flower with all the petals picked off and, for some reason, this really appealed to me. It also worked well as a border plant so I'd often plant the petunia's towards the back wall so they could spread out over the garden and then plant a row of Marigolds at the front. Also, the simplicity of the flower seemed to contrast well with the range of patterns displayed by the various petunias I grew. There was something about having a solid colour flower as a border that just seemed to 'work'.
These are just two of the plants that I grew up growing. Over the next couple of months I will discuss some of the other plants I 'cut my teeth' on in terms of gardening.