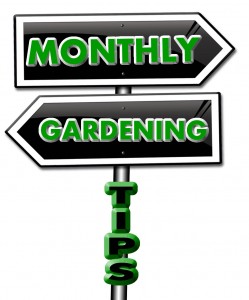 Have you signed up to my pre-release subscriber list so YOU can get the best deal on my upcoming ebook? Sign up here.
Any gardener knows that September marks the beginning of the pay off for all your preparation work throughout winter and these gardening tips will help you to grow a better garden. If you have worked hard, September and spring will be an absolutely marvellous time in your garden.
What makes September such a good month for gardens is the fact that, in general, around Australia, the weather starts to warm up with more sunshine hours. This leads to a slightly warmer soil temperature. However there are still occasional showers (and even some storms) which supply much needed moisture so that your plants can make the most out of the sunny weather. This is slightly different in tropical regions where the rains will actually be starting in the next month or so after the dry season. So what do you need to do this month? Well, there are two things you must do during spring, and therefore begin this month; enjoy the fruit of your labour and start to prepare for summer.
1. Enjoy the fruit of your labour
September is a good month to plant some annuals. Some Australian favourites include ones such as petunias and marigolds, as listed previously. Though these are not Australian natives, they can be planted in and around your native plants to spice up your garden with a little colour. Local nurseries will have a large array of annuals to choose from so why not head down and pick some out?
Make sure you spend some time out and about your garden, soak in the sun, and enjoy the spring blossoms. Perhaps even look for a local wildflower show to go to one weekend to gain some inspiration. There is nothing like seeing Australian natives in full bloom out in the wild to inspire you and give you ideas of how to best grow them in your own garden. Even if you don't use Australian natives, wildflower shows will help you see how you can best utilise the Australian landscape in your garden.
As your plants blossom, make sure you trim off the flowers when they die. This encourages your plants to flower again because they really want to produce seeds. September, and spring in general, are also great times for growing your own veggies. Plant some peas, lettuce, beetroot, carrots and silver beet and if you have not already, it's not too late to plant tomatoes or beans.
2. Start preparing for summer
The second major task for spring is to make sure that you start to prepare your garden and grassed areas to cope with the summer heat. If you have any dead patches of lawn, dig up a couple of runners from other spots in your grass to replace them with. This is mostly effective with buffalo-style grasses though couch grasses will respond as long as you get some roots.
I like to find runners that have grown in places where they were not meant to for use. Anyone who has grass knows that keeping it separate from your garden can be a big task by itself! If you take these troublesome shoots and plant them in dead spots you effectively 'kill two birds with one stone.'
Make sure that your garden beds are sufficiently mulched now. Don't wait for summer because the weeds will pop up in abundance from late winter if you do not have sufficient mulch. Plus, if you mulch well now, your soil will be improved so that is it better prepared to handle the heat of summer, and, in the case of tropical Australia, the wet of summer.
If your garden is already littered with weeds, clear them out and get mulch down before optimal growing conditions begin and make weed control almost impossible.
If you want to get gardening tips for the whole year sign up now to my pre-release subscriber list so you can get the best price on my upcoming gardening tips ebook, releasing September 16th.  Sign up here.