The aim of this series is to help you get to know who I am and why I love gardening. As I have often said, I don't come to you as a 'professional' who has gone to TAFE or University and learned a whole heap of stuff. These people are VERY useful, and sometimes I wish I was one of them, but I am not. I am simply someone who has grown up gardening and has learnt, over time, from key people in my life. In this series I have talked about the key people in my gardening journey, and last month, I talked about two particular plants I grew while growing up, Petunias and Marigolds. This month I am going to continue this theme and talk about two other plants my family and I grew while I was growing up. These two plants are Impatiens and Chrysanthemums.
Here are links to all other topics covered in the My Gardening Story series:
Summary and free ebook
The beginnings
Grandma Middleton
Grandma Tysoe
'Nan' Croxford
My Parents
My First Garden
Plants I grew up growing, Part 1
Plants I grew up growing, Part 2
Plants I grew up growing, Part 3
Growing Vegetables
Starting Aussie Green Thumb: Part 1 – The Business
Starting Aussie Green Thumb: Part 2 – Starting the Blog
How I Became Aussie Green Thumb
Impatiens
According to Wikipedia "Impatiens is a genus of about 850–1,000 species of flowering plants, widely distributed throughout the Northern Hemisphere and tropics." This does not surprise me because a lot of people in the Southern Hemisphere find it quite difficult to grow Impatiens.
My family and I had mixed success in growing various different species of impatiens. Generally in Australia impatiens prefer a shaded area because they really do struggle under the beating sun. They grow better in the tropics of Australia than the more temperate or cool zones. But then, I grew up in an area almost as South as you can get in Australia without going to Tasmania, and an area that has the propensity to be cold and wet. Figure that one out?
The reason I wanted to share about impatiens in this post is because they are actually, very nearly, my favourite plant that I grew growing up. They were simply stunning when in full bloom. We had a dart passage that ran along the side of my childhood home and it was here that our impatiens flourished. It was by growing impatiens that I learned some plants can be propagated by cuttings. Anyone who has grown impatiens successfully will know that, in the right spots, impatiens grow very well from cuttings. I remember quite regularly I'd be running down the path, knock off a bit of impatiens, stick it in the ground to make it look like I hadn't done anything and then two weeks later find another healthy plant growing! Whenever people would ask us for cuttings, we'd break a few pieces off, stick them in a glass of water for a few days and come back to find they had grown sufficient roots to be planted. In the right places, impatiens really are a great plant choice.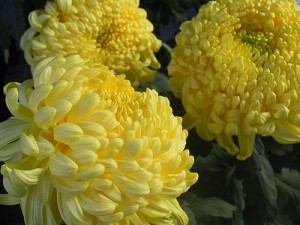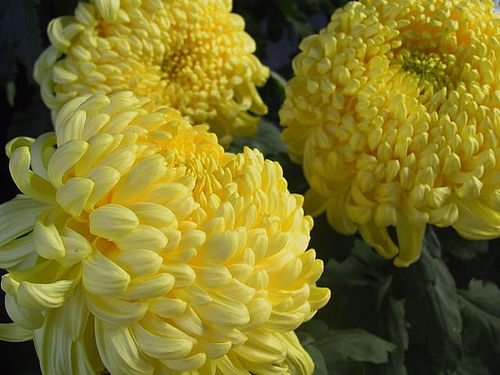 Chrysanthemum
The second plant that I am featuring today is the chrysanthemum. Wikipedia says that the "Chrysanthemum , often called mums or chrysanths, are a genus of about 30 species of perennial flowering plants in the family Asteraceae, native to Asia and northeastern Europe." In Australia they are very popular because they flower right around Mothers day, making them a great flower to give to your mum on that special day.
We often had a whole garden full of different species of chrysanthemum right out the front of our house. When they were in bloom every visitor would be greeted with a great display of colour,  a great way to be welcomed to our home. We generally got 3-4 flowering seasons out of our chrysanthemums before having to replace them with new plants.
If you are looking for good cottage garden-style plants, both of these are good choices. Just remember, impatiens can be a little difficult (but then in the right place prove to be one of the easiest plants I have grown) and much prefer shade to beaming sunlight. The best varieties to go for in Australia are those native to Papua New Guinea and surrounding areas.