Hi there, thanks for checking out Aussie Green Thumb, I appreciate it. If you want more, click here for all my best advice, exclusive content and FREE bonuses!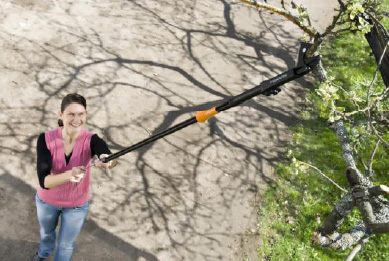 Written by Mick Gillies – Competition winner
I test ran the Fiskars Easy Reach Pruning Wand on my fruit trees just to see how well it handles a hard days work. The tool is very light weight and also perfect for those who have problems with their hands as it doesn't employ a scissor action, only a pull (slide) action along a long pole. Using only light force the tool easliy pruned my trees with little muscle power on my behalf. The razor sharp "secateur" blade slices cleanly and easily through branches of around the 1/2″ diameter or less.
The "ball" handle does tend to slip from your grip if you tire or apply to much force but when i put on a pair of "rubber" palmed gardening gloves this annoyance was quickly fixed.
The day's pruning went very well and with little energy use on my behalf.
A few things i would like to note are:
* If you consider increasing the jaw strength by adjusting the knot position-don't. The chances of breaking the cutting mechanism is very high due to its lightweight construction so if bigger branches are the target, opt for the saw and let the Fiskars tool do what its designed to do, prune smaller branches.
* Keep an eye on the clamping screws as they tend to loosen and so will need re-tightening. This may only be during the "breaking in" phase so it may not be a permanent hassle.
*The metal that makes up the jaws is very sharp but has that "brittle" look about it so don't over stress it and if the jaws jam dont move them sideways to release. Open the jaw and move back and forth as your would when freeing a knife.
All in all a very satisfying tool to use that's both simple in design yet quite capable of performing the task required. Once again I would like to note that its shouldn't be used on branches over 1/2″ as I personally don't feel the instrument can handle bigger and stay in working order. When the jobs finished always remember to clean and lubricate the cutting blades for long life and reliability.