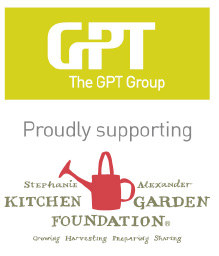 People are increasingly desiring to grow their own vegetables. This is a trend that is evident worldwide as the motto of 'sustainable development' becomes an even greater mantra. Global warming, the global financial crisis and an ever increasing cost of living, along with many other factors, are increasingly sending people back out into their gardens, growing vegetables. This is something I definitely support at AussieGreenThumb.com.
The Stephanie Alexander Kitchen Garden Foundation and the GPT group, one of Australia's leading property groups, have also noticed this and so have embarked on a long-term partnership.
Stephanie Alexander says;
Throughout the existing Stephanie Alexander Kitchen Garden program, children learn how to grow, harvest, prepare and share delicious and wholesome food, with the aim being to influence and inform the rest of their lives. I hope that through this partnership we can spread this message of pleasurable food education further into the community and into the homes of people visiting GPT centres.
To celebrate the beginning of this partnership, The GPT Group are holding a major event called 'The Magic of Growth' in seven of their their shopping centres, transforming the typical shopping centre garden into living kitchen gardens. In particular, starting today, the inside of Melbourne Central Shopping Centre will be transformed into a giant, living kitchen garden featuring growing, colourful fruit, herbs, scarecrows and bales of hay in Shot Tower square.
Other GPT shopping centres to undergo a garden makeover are Chirnside Park Shopping Centre(Vic), Parkmore Shopping Centre(Vic), Carlingford Court(NSW), Rouse Hill Town Centre(NSW), Forestway Shopping Centre(NSW) and Norton Plaza(NSW).
'The Magic of Growth' program is a week long event aiming to teach people how to harvest and prepare wholesome food and how to grow sustainable kitchen gardens at home. Various events and educational activities will be held at each of the seven shopping centres, including free cooking workshops, free recipes, community outdoor garden clubs and gardening workshops.
For further information, visit the GPT Group website, www.gpt.com.au
In most cases you can find information about what is happening at each location from the individual Shopping Centre websites.
Individual Shopping Centre Websites
Chirnside Park Shopping Centre – www.chirnsidepark.com.au
Parkmore Shopping Centre – www.parkmoreshopping.com.au
Melbourne Central – www.melbournecentral.com.au
Carlingford Court – www.carlingfordcourt.com.au
Rouse Hill Town Centre – www.rhtc.com.au
Forestway Shopping Centre – www.forestway.com.au
Norton Plaze – www.nortonplaza.com.au