As the end of the year draws closer, so does the 'My Gardening Story' series. There are two entries to this series left to go and they will both be covering how I came to start Aussie Green Thumb. In Part 1 I am going to talk about how and why I came to start Aussie Green Thumb as a small business. In Part 2 I am going to talk about how and why I started this very blog: AussieGreenThumb.com. I hope you enjoy these last entries over the next two months.
Here are links to all other topics covered in the My Gardening Story series:
Summary and free ebook
The beginnings
Grandma Middleton
Grandma Tysoe
'Nan' Croxford
My Parents
My First Garden
Plants I grew up growing, Part 1
Plants I grew up growing, Part 2
Plants I grew up growing, Part 3
Growing Vegetables
Starting Aussie Green Thumb: Part 1 – The Business
Starting Aussie Green Thumb: Part 2 – Starting the Blog
How I Became Aussie Green Thumb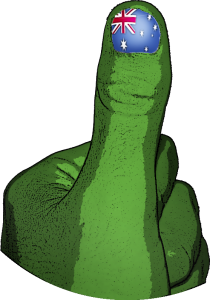 Starting Aussie Green Thumb – The Business
At the end of 2006 my life was at a pretty important crossroad. I was deciding whether to stay with the employer I was with at the time, who had trained me in the career I desired to work in but that may not have been able to enable me to go much further, or to move to a new employer in the role that I desired. After much thought and consideration, and much discussion with my employer, I decided to stay and we worked out a way that I could pretty much play the role I wanted in a slightly different way.
There was only one catch with this…the role would still not be full time. As someone who had spent most of the previous few years studying, this had not been a problem. Now, in 2007, my studies would be getting close to winding down and I was no longer going to be receiving government support. As such I needed another job to help pay the bills.
The Problem
There was one great big problem with this idea, the job I already had which wasn't full time was one I was very passionate about. It also wasn't a simple 9-5 job, the hours spread all over the place and were not necessarily the same from week to week. This meant that finding another job to fit in around this was difficult. I looked for a while but pretty quickly realised this was too difficult.
The Solution
One day I was over at a friends place helping them with some gardening. I didn't do a lot of this, but when I did I really enjoyed it. While gardening this person nonchalantly said 'you know, you could start a gardening business'. I could just about end this post right there because, in a nutshell, that is how I came to start my gardening business. Those words from a friend were all it took to convince me this is what I should do.
Not long after this I raced home and jumped onto the internet to explore what it would take to start a small business. I booked an appointment with a small business advisor to find out what I needed to know to start a business. I started to brainstorm some ideas for names and actually fell upon, and decided to go with, Aussie Green Thumb pretty quickly. There was no real market research or strong reasons why I went with it, I just liked it.
Not long after I settled on this I asked an animator friend of mine to design a logo for me (see above). I wanted a green hand with a thumb sticking up with an Aussie flag as the nail. As you can see, he did an amazing job! However, not too long after this I realised, as great as the image is, it isn't really a good 'logo'. I still use it for other purposes, but I had another friend (a graphic designer) make one for me, which is the current Aussie Green Thumb logo.
And so began my journey as a paid gardener. I got a lot of friends as clients at first, and this then broadened to friends of friends, until eventually I had 2 solid days worth a week (my goal) of gardening, which I could fit in around my other job.
At the end of 2007 my life changed again which led to the initial closure of Aussie Green Thumb. From 2008-2009 I didn't operate either the business or my blog, but come the start of 2010, when I again needed a flexible job to fit into my life, I re-started Aussie Green Thumb and am enjoying it immensely.
Next month I'll cover how I came to start this blog, which, being honest, is what I am actually most passionate about. I am very much enjoying helping equip people to do the gardening themselves, to discover the green thumb inside of them.