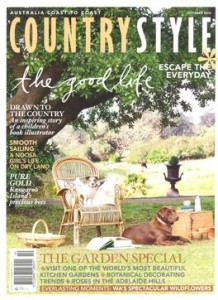 Another month, another guru magazine to review! This month I am reviewing the 'Country Style' magazine. Country Style is a monthly magazine published by News Magazines with a recommended retail price of $7.95 inc GST in Australia and $8.99 inc GST in New Zealand. Country Style magazine seems to be pitched as a more formal magazine. At roughly 160 pages per issue it is quite substantive for a monthly edition magazine and it is published with quite a stylish look. Though it is not technically a 'gardening magazine' per see, it regularly features some great gardening articles. The October edition, which i am reviewing, is actually a 'garden special' which works well!
Article Headline Examples
Kitchen Gardens – Visit one of the world's most beautiful kitchen gardens.
Roses in Adelaide Hills – A leading Adelaide horticulturalist has created a series of striking garden spaces.
Everlasting moments – WA's spectacular wildflowers.
Best of the Regular
Reader Events – A page dedicated to informing you of upcoming special events. Usually this page seems to only promote one event but that one event is usually quite a good one.
A month in the country – Another section which outlines what is going on in the different states country area's throughout the current month. Really good place to find out when garden festivals are happening!
The Last Word
As someone who has spent equal time living in the country as the city but now residing in the city, I really enjoy Country Style magazine. It almost helps me to experience some of the charms of country life from my city dwelling! This magazine really is very well put together with a great mix of the different elements that make up country life. It also often features some rather large gardens given the space country people often have to work with.
Check it out! 7.5/10 for me.