Summer in Australia is in full swing, and it is the perfect time of the year to redesign the garden. Just as eco-friendly home design, buying and eating local foods and green cleaning are hot right now, so is smart and simple, eco-friendly garden design. Having the perfect yard doesn't have to be a chore: Design a garden that works with your environment and requires minimal care, and you will have it all.
Remember that no matter how you choose to design your garden, the best gardens are always well maintained, from mowing the lawn to trimming the trees and bushes to watering the plants.
Eat (Really) Local
Environmentally friendly eating and organic produce extend from your table right to your home design and shopping strategies. If eating local means that you get the freshest produce at the lowest prices, then why not eat from your own backyard? Gardens of the future include the produce that you want serve on your family's table, and the future has arrived in 2020. Choose plants that grow well in your environment, whether you're close to a water supply or wetlands, or your garden gets a lot of sun.
Apple or plum trees provide shade, while cucumbers or tomatoes are great at growing up a fence or a trellis.
The best way to know that your family is eating organic is to grow your own food. Using environmentally fertilisers is also a big trend in 2020.
Create a Garden that Fits Your Environment
It's 2020, and we know that native plants have adapted to the existing environment, and they support the ecosystem. Part of being green is building a garden that works with the environment, rather than trying to maintain plants that prefer what your neighbourhood may not have to offer.
Which kinds of butterflies, birds and furry animals are native to your area? Consider building birdhouses, or butterfly feeders to help the local species. Are the critters eating your produce before you get a chance to? Choose plants that either attract or repel certain animals by smell or colour.
How much sunlight and water does your garden have if you do nothing to it? Selecting plants and backyard art that works with what you have rather than against it means that your plants will require less maintenance, and they'll look great.
Consider How You Will Use Your Garden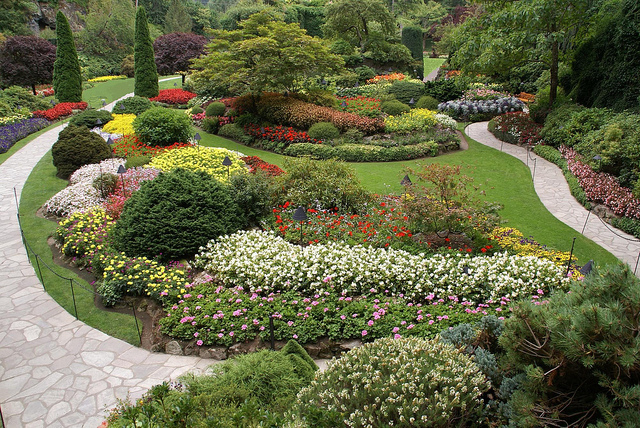 Home and garden design in 2020 should both reflect your personal preferences, from style to activities you enjoy. Do you like to relax in the garden? Will you throw parties for friends and family? Will children be playing in the garden? Or is your garden for getting down in the dirt and spending time with nature?
In 2020, your new garden should be about you. If you like relaxing in the shade, maybe hang a hammock between two trees. If you have children, tie a swing from a high up branch or add a playset. Use paths or plants to section off different areas for different purposes. If you are likely to have parties, consider adding a shade sail that can be used on sunny or rainy days.
No matter how you plan to use your garden, it should express your personality.
Lighting Can Make All The Difference
Gardens in 2020 will be well lit for the occasion. During the day and in the summer, the sun is high in the sky and Australian gardens will be hot. But if you'll be spending time in your garden, it should be comfortable. A shade sail can protect you from some of that Australian summer sun, and leave the view of the stars open at night. A tree might be shady during the day, but can be scary or too dark at night. Hang lanterns, strings of lights, or add a fire pit to your backyard for night-time gatherings.
Author Bio: Paul Beacon is the General Manager of the family-owned Beacon Equipment Garden Superstores in Perth which supply Western Australia with outdoor power tools and lawn equipment.
_________________________________________________________________________
Image sources:
http://www.flickr.com/photos/yaketyyakyak/9519022870 
http://www.flickr.com/photos/davidkineugene/6702547047