The plant of the month for July is the famous Eucalyptus. Last week I featured the Eucalyptus rhodantha, this week I am featuring the Eucalyptus erythrocorys.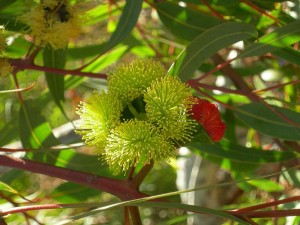 Genus: Eucalyptus
Species: erythrocorys
Common Name: Illyarrie
Flower Colour: Yellow
Foliage Colour: Green
Growth Habit: Small Tree
Flowering: Summer to Autumn
I chose to review this species because of its yellow flower which sprout from red caps. These flowers can be up to 5cm in diameter so they really stand out. The erythrocorys is a Eucalyptus that falls under the category of being a 'Mallee tree' and will grow from 3m to 10m in height. This is generally taller than most people in suburbia want but it is often planted by farmers or people in the country with larger properties.
The Eucalyptus erthrocorys grows best in sandy or limestone based soils so this makes it fantastic for coastal or semi-arid area's. It is native to Western Australia but has been known to grow well around the country. Best grown in full sun with well draining soil.