Note from Jim: This week we are featuring another local Australian company, Secure-A-Fence based in Perth, who are sharing details on safety requirements and other important considerations when installing a pool on your property. If you have any further questions, leave a comment below and the team at Secure A Fence will get back to you, or contact them directly.
Pool fencing is subject to strict requirements and safety standards around Australia. When building a pool, adhering to the pool fence safety regulations in your state is critical to avoid tragic accidents as well as hefty fines for non-compliance.
Like all Australian states, Western Australia enforces rigorous pool fencing regulations. Secure-A-Fence manufactures a range of tubular pool fencing options that not only meet WA safety standards but exceeds them, ensuring your pool fence is as safe as possible. As a locally owned Perth fencing company, Secure-A-Fence can guide you through everything you need to know about pool fence safety.
Does Every Pool Need a Fence?
A pool fence is mandatory for every in-ground and above ground pool and spa that is 300mm deep or more. Portable wading pools less than 300mm deep don't require a fence but vigilant adult supervision of children is still required at all times.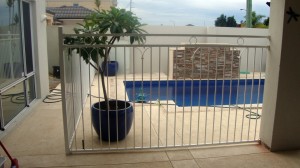 What Should a Pool Fence be Made From?
Australian standards dictate pool fences be constructed out of strong materials and designed in such a way that makes climbing the fence next to impossible.
Secure-A-Fence manufactures pool fences from high grade tubular aluminium or high grade steel that exceed Australian Standard AS1926. Both options provide excellent longevity and strength. Though steel is considerably more durable than aluminium, aluminium provides excellent corrosion resistance. Secure-A-Fence can custom fit a regulated pool fence to your area, accommodating for any site including slopes and steps, as well as curved panels.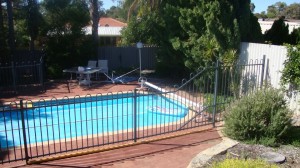 Pool Fence Gates and Locks
Swimming pool gates are required to open outward away from the pool and must not have a gap of more than 100 mm from the ground. Gates must be fitted with a latch and all gates and latches must be automatically self-closing. Regulations recommend installing the gate over a hard surface so that growing grass or weeds won't impede the smooth, self-closing swing of the gate. Gates need to be made of a material that can still self-close even without being impeded by wind resistance. Secure-A-Fence manufactures pool gates that exceed these regulations, all fitted with Magna Latch key lockable latches.
Pool safety regulations also dictate the installation heights and other distances for latches and hinges. The team at Secure-A-Fence will ensure all of your pool fence mechanisms are properly installed according to standards.
Pool Fence Position
A pool fence must not be located near any objects such as trees, BBQs, pots, or pool filters that children could potentially use to climb over the fence. There are also regulations regarding the use of a building's wall as part of the pool fence enclosure.
How High Does a Pool Fence Need to Be?
Your pool fence must be a minimum of 1200mm high with a distance of 900mm between horizontal supports.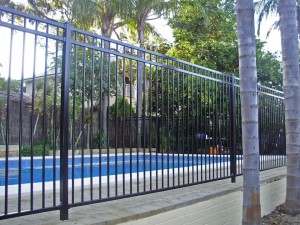 Other Considerations
A secure pool fence is more than a matter of safety. Secure-A-Fence understands a pool fence also needs to suit the style of your home and outdoor area. Secure-A-Fence pool fences are available in a range of attractive styles including traditional spear or scroll topped poles, ornate hoop and lances, flat ranch style fences or arched finishes, all available in a range of colours.