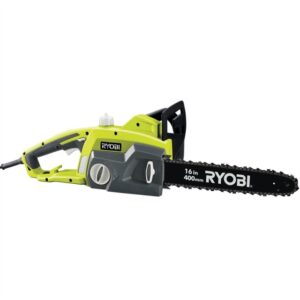 Would you like to win a 2000W Ryobi 400mm Chainsaw? Well today is your lucky day.
Thanks to Bunnings, Aussie Green Thumb is privileged to offer you the chance to win this chainsaw! Want to know how? Read on.
Why would you want to win this chainsaw
Over the years, chainsaws have gotten a bad rap for being unsafe for the home user. This is no longer the case.
The 2000W Ryobi 400mm Chainsaw would be a handy addition to any home user, enabling you to remove that pesky branch or chop up those fallen logs with ease.
Features
– This chainsaw features 2000W of power, just the right amount for the casual home user.
– The bar is 400mm long. Again, a good length for the occassional job and easy to wield for an unfamiliar user.
– Runs on power so you don't have to worry about running out of petrol. Simply connect it up to an extension lead and plug the lead into a power point. Presto, the chainsaw is ready.
As long as appropriate care is taken, using cabled tools is not an issue.
– Automatic Chain Oiling. Gone are the days of having to remove the chain after every job and oil it. The 2000W Ryobi 400mm Chainsaw has an automatic oiling mechanism with a handy 200ml oil reservoir.
You can even adjust the chain without any need for extra tools. Now that's handy!
Why a chainsaw?
Quite frankly, sometimes you just need a chainsaw. Loppers and pruners are good for when plants, shrubs and trees are small but sometimes these grow far bigger than you desired and the easiest way to bring them back to size is with a chainsaw.
Why spend an hour painstakingly trying to saw through with a manual saw when a safe modern chainsaw can do the job in a quarter of the time?
Methods of Entry
There are 2 methods of entry and everyone may enter both once.
Method 1 – Simply add a comment to this article outlining your favourite Bunnings experience. Make sure you include a valid email in the email field (this will not be made public) and your name.
Method 2 – Head to https://www.facebook.com/aussiegreenthumb and add your Bunnings Experience as a post. Just make sure you start the post by saying 'To win a Ryobi Chainsaw, I'm sharing my favourite Bunnings Experience. You Can Too!'
Perhaps you bought a plant from Bunnings which has become your pride and joy? Maybe you just experienced fantastic customer service, or your dream DIY project was made possible with the help of Bunnings Learn to DIY.
Let us know hear about your experience for your chance to win the 2000W Ryobi 400mm Chainsaw.
Conditions of Entry
Only one entry per person, per option.
Competition is only available to people who live in Australia.
Competition will be drawn on Tuesday, October 16th. All entrants names from both options will be entered into a sealed container and one winner will be drawn at random.
Good luck!