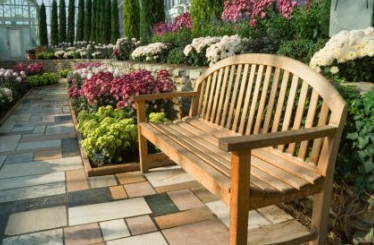 In pre-industrial times, gardening was labour. It was, literally, food on the table, or items which would be sold for sustenance. It wasn't a distraction from the daily grind, it was the daily grind. That was, of course, before office jobs, email, and traffic jams. For the modern gardener, that small patch of land is something very different. It is a haven from the daily grind, a chance to unplug and get away from it all.
When I tug on my gardening gloves and knock the dirt from my trowel, my mind clears and I feel myself getting lighter as the weight of responsibility lifts from my shoulders. But I know that many others have the opposite reaction. Gardening, to them, is another chore. If you're one of those people, however, don't despair. This article will show you how to break down your gardening time into simple, manageable tasks.
The first thing to do might be to get yourself a nice outdoor bench. This way, you can sit in your garden, close your eyes . . . and imagine. Think about how you want the space to feel, and how it needs to look to promote those feelings; what makes it your ideal home away from home. Then, once you have that picture in your mind, open your eyes, grab a pencil and start writing down your plan.
For example, the following desires find their way on most gardeners' check-lists:
Differentiate specific areas of the yard
Add year-round colour
Control weeds
Each of these goals can be broken down into smaller, more manageable tasks:
Landscaping:
Create clear lines between lawns and beds
Provide balance between buildings and plants
Create walkways for high-traffic areas.
Planting:
Plant shrubs and perennials to provide texture
Plant a variety of flowers for colour
Mulch and fertilise plants as appropriate
Weeding:
Eliminates weeds in grassy areas
Treat weeds when they're still small
Fertilise grass area regularly
Remember that yard work is never done. Just when you think you've put the finishing touches on, you'll get new ideas and discover new ways to use the space. This is one reason why walkways are often added last. It can be hard to predict exactly what parts of the lawn will be high-traffic enough to justify them. Walkways can take a while to build, but once they're done they require very little upkeep. Furthermore, they can also serve as borders between different sections of the lawn. In your garden, a wooden bench can be a fantastic destination for a path.
Some people prefer discrete, artificial borders made of plastic or wood edging to separate different parts of their yard. I prefer a more natural approach: a thorough trimming, combined with careful sweeping of mulch and soil back into the appropriate beds, will create a clear border. Of course, no sooner have I created tidy borders when some bird or rodent decides to come along and dig under the landscape fabric to retrieve some tasty morsel they think is underneath it all!
Plant life hides much of the damage these animals do, as well as adding structure and color. Low-lying ground cover plants will keep weeds down, and cover the edges of landscape fabric. Then I think from the back to the front. The back is, literally, my backdrop. A texture-rich area of perennials and shrubs which will frame the more colourful annuals I plant towards the front.
Definitely consult with a gardening supply store in your area to insure that you're picking the right annuals for your hardiness zone before you buy. Arboretums are another excellent source of information on wise choices for your locale. Remember to pay attention to how much light hits each part of your yard and to take it into account when making your plant choices.
Weed control is a never-ending task. It's often best to start with a natural approach: denser ground cover will squeeze out the weeds, reducing your problems in that area, but for the most part you'll have to deal with weeds in the spring, summer, and fall. If you prefer a slightly looser look, you can keep your grass in shape just by cutting it regularly, keeping it at least three inches long. Using fertiliser every three months is another helpful tip which many gardeners don't realise will help with weed control.
Many gardeners like to use weed killers, but there are hidden costs. They are not very environmentally conscious, as the chemicals can leech into local waterways and be very harmful to local flora and fauna. Other options are going for a lower-maintenance design, such as using more trees and mulch to reduce your grass area, or creating a children's play yard or even a greenhouse for seed growth. Storage sheds are popular as well, but don't overlook the possibility of a garden storage bench. They can hold a surprisingly large amount of your gardening equipment while beautifying your garden and creating a great spot from which to appreciate all the hard work you've done.
And that, really, is what it's all about. You want to enjoy the space you're creating. Making that beautiful backyard shouldn't be another tedious item on your to-do list, it should be a calming, energising part of your daily life.
So You Want A Better Garden?
All my best articles have been collected into what I'm calling the ultimate gardening toolkit – make sure you take a look, there's a heap of great gardening advice available.
I've also published a series of gardening ebooks that you might be interested in. Good luck!
About Stan Horst

Stan Horst lives with his wife, teenagers, and dog in the picturesque Blue Ridge Mountains of Virginia. He currently edits and publishes BetterBenches.com, drawing on his years of experience building fine cabinets and furniture. In addition, he entertains people from around the globe in his vacation rental cabins. Stan loves the outdoors, and spends time hiking, camping, and, of course, in his garden.