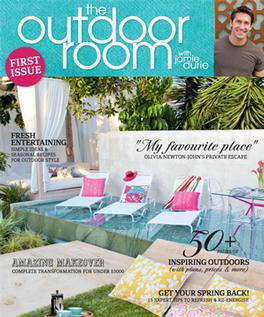 Throughout this year I have been reviewing the various different gardening magazines that are available around the traps. This month I have the privilege of reviewing the first issue of what I am sure will turn out to be a fantastic gardening magazine series. Many of my readers will have heard of Jamie Durie before. He is a TV gardener who has appeared on many different TV shows. I have always appreciated his gardening tips and believe he has a lot to offer. This Spring he has launched his own gardening magazine called 'the Outdoor Room'. Here is my take on the Spring issue.
Article Headline Examples
My Favourite Place – Olivia Newton John's private escape.
Grow, Cook, Eat – Enjoy a bountiful harvest.
Amazing Makeover – Complete transformation for under $3000!
A Unique Escape – Beauty in our own backyard.
Best of the Regular – It is a little hard to work out 'exactly' what is going to be regular, being the first issue, but it appears there will be 5 regular sections, as follows.
Outside Influences
Outgrown
Out and About
Out of the Way
Outstanding deals.
Out and About looks really interesting. In the Spring edition it contains a whole heap of news, events, letters, and tips for how we can do our bit for the environment. Outstanding deals is also good, with a special Spring offer for cheap subscription options.
The Last Word
Jamie Durie really appears to have pulled together a fantastic team of gardeners to provide some really interesting articles, some fantastic gardening ideas and some great hints and tips for gardening. I don't actually have any permanent magazine subscriptions but if this first issue is anything to go by, that may well change soon.