The Callistemon Citrinus species is found naturally occuring throughout the East Coast of Australia but will generally do well in most cold and temperate climates. Even the tropics of Australia have seen success with this variety of Bottlebrush.
Callistemon Citrinus Features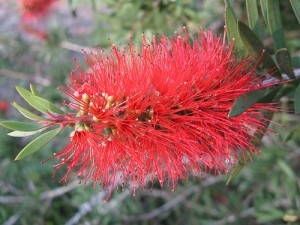 Genus: Callistemon
Species: citrinus
Common Name: Crimson Bottlebrush
Flower Colour: Red
Foliage Colour: Green
Growth Habit: Small Tree to 3m
Flowering: Spring to Autumn
The Crimson Bottlebrush could well be called the King of the Bottlebrush family. It is by far and away the most common and the most popular Bottlebrush and has been exported to many countries around the world. One of the most prized aspects of this species is in its best years it will flower twice, once generally in Spring and then again generally in Autumn. If the flowers are late then it may only flower once and this may even be in Summer.
The citrinus prefers soil with good drainage and a full sun position. Applying fertiliser all year round will provide you with the best chance of getting two flowering seasons and the citrinus isn't as susceptible to fertilisers with a high phosphorous amount like many other Australian natives.
The best time of year to prune the citrinus is after the Spring flowering. Only prune after the autumn flowering in climates that do not experience too much frost. Prune off the spent flowers to encourage growth and hopefully a second flowering season!
Last week I featured the Callistemon brachyandrus, this week I am featuring the Callistemon citrinus.