Since moving into my current house I've been doing quite a bit of work around the garden. I haven't actually lived somewhere that I can have a garden for a little while, something I am very glad that I have rectified. So far I have installed 4 ACQ Treated Pine raised garden beds, all of which are now full of various different vegetables. However, whenever I look out the back at the old, rundown asbestos fence, I want to cry. It is just so bland, boring and grey, not a good look in a garden. As such I have always been on the lookout for something to place in front of the fence to make it look better. On a recent trip to Bunnings I came across Eden's Euro Reed Natural Garden Screening and thought I'd buy one pack to test it and see what I think. In the process I realised that my readers may benefit from my thoughts on this product!
Eden's Euro Reed Natural Garden Screening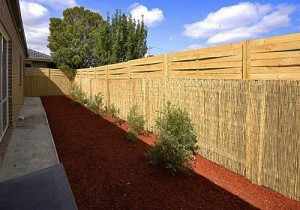 To the right you will see a picture from the Eden Website which really captures the possible look you may be able to achieve with this product.
What is good about the product?
One obvious positive is that the screen fencing comes pre-made. The whole thing holds together quite well but still allows flexibility so that when you install it, you can get it just the way you like it (with a bit of patience).
Another positive is that there are different colours and styles (though the different colours and styles will have a slightly different name). The variety I am using is the Euro Reed. I also noticed a number of other colours and screens made from slightly different materials. This means there is likely a colour and material to suit your desires.
Another positive is there are different pre-made heights. I saw 3m wide by 1.5m varieties and also the taller 3m wide by 1.8m high, which is what I chose to work with.
What could be better about the product.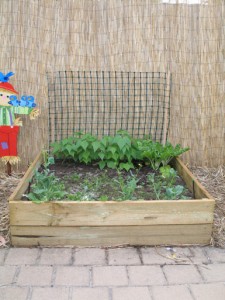 I am hesitant to say what I am about to say because it may just be my experience, but I found this product was actually deceptively difficult to get just the way i like it. You'll see in the picture to the right my attempt to install it. Though it does look reasonable, I am a bit of a perfectionist and as I write this article, I am not 'entirely' happy with my DIY outcome. The most difficult thing is getting all the lines straight, which isn't entirely necessary but looks better. I have also found it difficult to get the nice, neat straight line at the top. Nothing that I can't fix in time, but I would say the product LOOKS easier than it perhaps is to install.
The market I feel this product is designed for is the weekend gardener who just wants to get something 'practical' to cover an ugly fence. A weekend gardener doesn't want to have to get the spirit level out because you need a perfectly level foundation to get the desired outcome. However I do feel, with this product, that is just about needed if you want it to look like the top picture. In saying that, if you just want something to cover an ugly fence and you don't care if it is perfect, this is probably a good product for you.
More on Installation

The product doesn't come with the fixings to secure it with but this is to be expected as what you use will depend on what fence you are covering. The DIY instructions suggest you use fencing staples, screws, wire or nylon ties. Because I have an asbestos fence and couldn't disturb it too much, I chose to use the existing screws used to hold the asbestos sheets together. I simply unscrewed the top nut (most fences have 2, top and bottom), pressed the screen up against the fence, placed the metal plate over the screen and then placed the nut back onto the screw. Simple.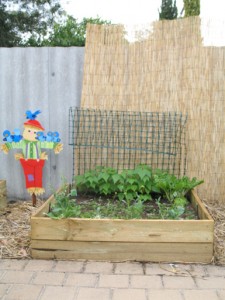 Compare and Contrast
Here is a photo taken during the installation process. You can compare and contrast the old, run down asbestos look to the new, Euro Reed Screen look. I do much prefer the Euro Screen Reed look.
The Last Word
Ultimately I am actually relatively happy with the Eden Euro Reed Natural Garden Screening. Even though it will take a little bit more work than I first expected to get the desired outcome, it is still quite an easy way of improving the overall look of my back fence. If you are not too worried about the lines matching up and the top being completely straight, you could probably install 2-3 of these 3m wide sheets in about two hours.
Score: 7.5/10
So You Want A Better Garden?
All my best articles have been collected into what I'm calling the ultimate gardening toolkit – make sure you take a look, there's a heap of great gardening advice available.
I've also published a series of gardening ebooks that you might be interested in. Good luck!