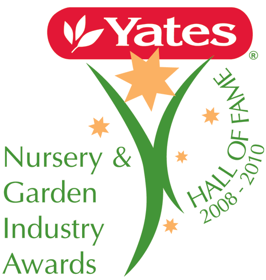 Hi there, thanks for checking out Aussie Green Thumb, I appreciate it. If you want more, click here for all my best advice, exclusive content and FREE bonuses!
A very important part of gardening is know what fertilisers to use on what plants and when to use them. Whether you are growing roses, vegetables or an organic garden, fertiliser will go a long way towards improving the healthy and well being of your gardens and lawns. One company that excels in providing fantastic and wide ranging fertilser products is Yates.
How Yates Gardening Began
Yates was founded by Arthur Yates, an Englishman who migrated to New Zealand in 1879 to escape the damp weather of his native Manchester. The seed business that Arthur opened in Auckland in 1883 was the beginning of what was to become one of the most recognised names in Australian and New Zealand gardening.

Best Yates Fertilisers Reviewed
From the humble beginnings as a simple seed business, Yates has become a widely renowned gardening company and their fertiliser products are second to none. If I was to review every single fertiliser product that Yates has on the market, we would be here all day.
Instead I am going to focus on 3 kinds of fertilisers, organic, slow release and water soluble. Yates have many fertilisers that fit into these categories, continue reading to learn more.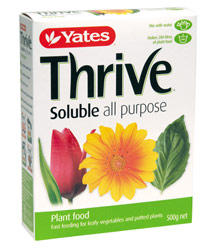 Thrive Fertiliser – Water Soluble All Purpose

Yates water soluble fertiliser is called 'Thrive' and the name really does encapsulate what this fertiliser will do, it will make your garden thrive. Thrive also comes in many varieties but the best known and most widely used is their 'all purpose' Thrive fertiliser.
The benefit to this is your average gardener doesn't always want to have to buy 7 different fertilisers for 7 kinds of plants and so the all-purpose works a treat. Being water soluble is also a benefit because this helps the fertiliser sink further into the soil, right down to the root of the plant, enabling the plant to receive the nutrients that it needs quicker.
Being all purpose it also makes the job ob fertilising easier as well because you can just go around with the one watering can and Thrive to apply to your entire garden. This does need to be done more frequently than slow release, however. Thrive is a great water soluble fertiliser.
Yates Organic Fertiliser – Dynamic Lifter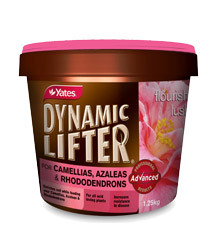 The best known organic fertiliser produced by Yates is called 'Dynamic Lifter'. These fertilisers are a mix of organic manures and naturally occuring mineral fertilisers. It uses these organic materials to naturally enrich the soil, filling it with more nutrients to give you improved flowering or fruit production. You can get dynamic lifter in many different types, depending what you are fertilising. Some examples are dynamic lifter for roses, for freshly laid turf, for established lawns, for fruit and citrus trees. Each of these is designed to work best for the particular plant that each fertiliser is designed for.
Yates Slow Release Fertiliser
Yates slow release fertiliser is called 'Anticote'. Just like the organic fertilisers, Anticote comes in many different varieties, each aimed at benefiting a different plant. Some varieties include for potted and container plants, for roses, for fruit trees and for natives. This yates product is very, very good. The benefit to using a slow release fertiliser is really explained by the name, these fertilisers slowly release nutrients into the soil over a longer period of time. Yates has produced a truly fantastic slow release fertiliser that I have regularly used, and have always achieved good results.
Thrive is a great water soluble fertiliser.