Hi there, thanks for checking out Aussie Green Thumb, I appreciate it. If you want more, including a free buyers guide to my favourite gardening tools, click here for all my best advice, exclusive content and FREE bonuses!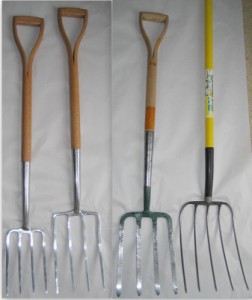 One tool that has become less and less common in the gardeners shed in recent years if the garden fork. However I strongly believe that it is an absolutely pivotal tool for any gardener to own. Garden forks are used for many different tasks. They can be used for shifting mulch and leaves, they can be used to help uproot difficult plants and they can be used to aerate or turn over soil. This is but a small number of the tasks that garden forks can be useful for.
What to look for
A lot of the tasks that you would use a garden fork for require a lot of force to be exerted on the tool and so it is imperative that buy a good quality garden fork. As garden forks have become less and less popular the market has been flooded with cheap and nasty alternatives. Just last week I was helping a friend out and so using their tools. The fork was brand new. I placed it into the ground in a common manner, placed a mild amount of force on the tool and the plastic handle snapped right off.
The BEST garden forks are 'forged'. That is they are made from one solid piece of metal, forged when heated. The very best in my opinion are forged steel with a soft rubber coated handle. If you are not buying a forged garden fork make sure you check out how many joins the tool has. Is there a join between the prongs and the shaft? Is there a join between the shaft and the handle? Joints are points of weakness, the more joints their are, the weaker the tool will be.
Many alluminium alloy forks are coming out with extremely high %'s of aluminium in the alloy. Aluminium is a very malleable metal which means it bends and twists easily. Many good tools are made of aluminium alloys HOWEVER you really need to make sure the alloy has enough other metals to strengthen the tool. Feel the prongs on the fork, put some pressure on them. If you can bend them yourself (which isn't out of the question with cheap tools today) then think what using them will do?
Make sure the handle feels comfortable and the shaft is a reasonable length. Short handles make the tool more versatile as it'll be easier to manage in tight spaces but it also means the work will be harder. Longer handles provide more leverage which can make the job easier, depending on what you are doing, but also make it harder to use in tight spaces. Think about how you think you will be using the tool and decide, based on that, what you need most.
Cost
My advice with garden forks is not to buy cheap. As I mentioned above, in recent years many cheap brands have entered the market but the tools they sell are shocking. The garden fork is one tool that is very commonly made for 'cheap' prices but these tools simply will not stand the test of time. Anything less than $30-$40 and I would suggest you are probably throwing your money away. Having said that, garden forks that are around $30-$40 will likely work well. Though a seriously good quality forged fork will set you back likely $70+, a strong mid range fork with 1, maybe 2 joins will probably do the job. Let me re-iterate though, don't buy the cheap imported forks!
5 Different Garden Fork To Choose From:

Super Steel Heavy Duty 4 Tine Spading Fork is ideal for heavy duty, commercial and industrial use. It's forged from hardened and tempered high carbon steel to ensure maximum strength and toughness for a lifetime use.

The Ames Companies, Inc True Temper 4-Tine Forged Spading Fork have a 4 diamond pointed steel tines for easy soil penetration and a 30 inch hardwood handle for strength and durability.

This Spear & Jackson Heritage Forged Border Fork is suitable for digging and cultivation. It has a extra long socket for additional strength and durability.

Another Spear & Jackson Garden Fork designed with a mirror polished stainless steel tines and a weatherproof hardwood shaft. Its one piece shaft is split to form a D handle for comfort.

This Spear & Jackson Garden Fork have a fully forged carbon steel head and socket. also have a weatherproof hardwood shaft for greater durability.
Though many tools can be used to 'make do' without a garden fork, none do the job as effectively and as efficiently as a garden fork. It is for this reason that I include the garden fork in my basic garden tools series.
Aussie Green Thumb garden tool buying guides:
Buying guide: Shears
Buying Guide: Secateurs
Buying Guide: garden rake
Buying Guide: loppers
Buying Guide: garden trowel
Buying Guide: spades and shovels
Buying Guide: pruning saw
Buying guide: garden fork
So You Want A Better Garden?
All my best articles have been collected into what I'm calling the ultimate gardening toolkit – make sure you take a look, there's a heap of great gardening advice available. I've also published a series of gardening ebooks that you might be interested in. Good luck!