Hi there, thanks for checking out Aussie Green Thumb, I appreciate it. If you want more, including a free buyers guide to my favourite gardening tools, click here for all my best advice, exclusive content and FREE bonuses!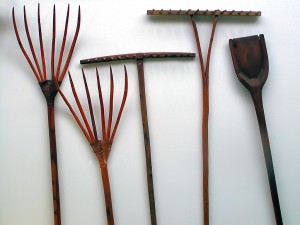 When it comes to gardening tools, many decisions have to be made. Often there are various 'types' of each garden tool, some of which I have covered throughout this series.
However, in my opinion there is no garden tool whereby the different 'types' are so different than the humble garden rake.
As is often the case the 'names' for the various types of garden rakes differs depending on where you are but for the sake of this article I'll be talking about 3 different types, leaf rakes, lawn rakes and garden rakes.
his last type is a little confusing, given it shares its name with the overarching type but I think you'll understand the difference by the end of the article.
Leaf Rake

The name of each of the three types of rake I am talking about give you a rough idea of their purpose. A lead rake is mostly used for…raking up leaves.
Some places in the world require leaf rakes more than others but they are generally a useful tool to have. When buying a leaf rake their is one main variable to consider, how light is the rake.
Quite simply, leaves themselves are not heavy so you do not need a heavy duty rake to rake them up. What you do need is a tool that you can use for long periods of time and not tire too easily.
Especially during autumn (or fall as American's call it), raking leaves can be a big task and so you want a tool that is light weight, flexible and has a broad head. You also want very small gaps between the rakes prongs so that leaves can't slip between them.
Leaf rakes are about the ONLY garden tool that I will recommend buying something with plastic as plastic heads are generally the lightest and so make for a good leaf rake.
Lawn rake

A lawn rake is actually very similar to a garden rake, in fact many people don't differentiate between them because a lawn rake CAN be used as a leaf rake.
The main difference here is that a lawn rake needs to have a stronger, sturdier and therefore generally heavier head. Lawn rakes are usually used to remove dead grass on the top layer.
Sometimes even dead grass can be well rooted and so you need a little bit of strength in the head to help pull out the grass. It is important when choosing a lawn rake that you get one with a solid join between the head and the handle as this is where all the pressure will be.
If you choose a lawn rake with a weak join, the join may give way and leave the dead grass embedded in the ground!
Garden rake

As I said above, it can be very confusing calling one type of garden rake…a garden rake. I have always thought this strange but have never really heard a better way of naming them. If you have a better name, let me know!
A garden rake is really quite different to both a lawn and leaf rake. A garden rake is usually used in soil, often for moving or leveling soil. This job requires that soil can both be pushed by the rake but also not provide too much resistance.
As such a garden rake has fewer prongs on the head and they are spread out more. Lawn and leaf rakes have long prongs that mostly go in the same direction as the handle where as a garden rake has prongs that are totally on a 90 degree angle.
Garden rakes need to be sturdy and they need to be make of really solid materials. A good garden rake is like a good garden spade or shovel, if you buy the right one it really could last for life.
Don't scrimp when it comes to choosing a garden rake!
Here are 5 rakes you can choose from: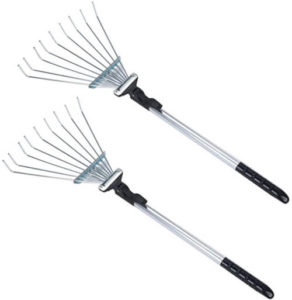 Specifically made to help you clean debris and leaves from your lawn or any outdoor area around the home.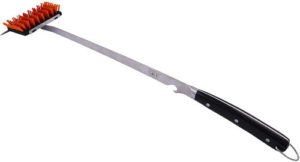 Not only as a rake but also serves as grill brush with removable brush head.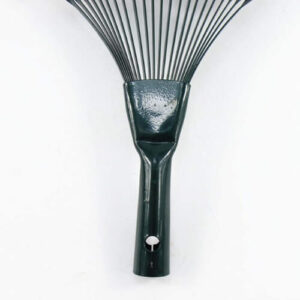 Made from high-carbon steel, this is one of the good quality garden tools you will ever have.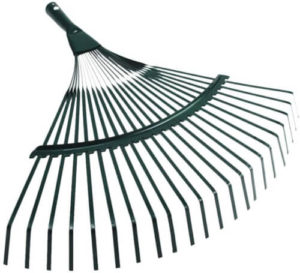 With it's 22 Teeth design, this rake is dense enough to clean the leaves and weeds.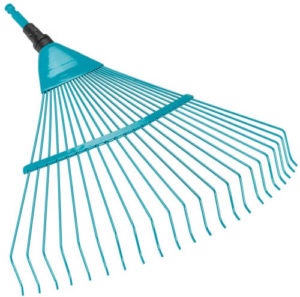 This rake is optimally made for aerating and cleaning mossy lawn areas. The best part?
It Comes with a 25-year warranty
Cost

Leaf Rakes

Definitely the cheapest as far as rakes go. Probably the only garden tool I'll recommend where you can buy the cheapest tool available and it will probably be ok AS LONG as you only use it for it's purpose, raking leaves.
The more expensive leaf rakes only cost more because they improve the ease of use or are slightly lighter. Still, a $10 leaf rake will do the job.
Lawn Rake

Because a lawn rake needs to be stronger than a leaf rake the cost is slightly higher. I've been solid lawn rakes for as little as $20 and a lawn rake CAN be used as a leaf rake, it'll just take more effort since a lawn rake will be heavier.
Garden Rake

This is the most costly rake. A budget garden rake still shouldn't be less than $25 and a solid garden rake will probably set you back $30+. Spending $40-$50 will make it more likely that you are buying a tool for life.
There you have it, the last in my gardening tools buying guide series! Recap everything that has been covered below:
Aussie Green Thumb garden tool buying guides:
Buying guide: Shears
Buying Guide: Secateurs
Buying Guide: garden rake
Buying Guide: loppers
Buying Guide: garden trowel
Buying Guide: spades and shovels
Buying Guide: pruning saw
Buying guide: garden fork
So You Want A Better Garden?
All my best articles have been collected into what I'm calling the ultimate gardening toolkit – make sure you take a look, there's a heap of great gardening advice available. I've also published a series of gardening ebooks that you might be interested in. Good luck!