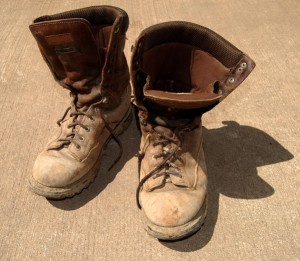 Hi there, thanks for checking out Aussie Green Thumb, I appreciate it.
If you want more, including a free buyers guide to my favourite gardening tools, click here for all my best advice, exclusive content and FREE bonuses!
What do you like to wear when you are out and about in the garden? What feels comfortable? Do you have designated attire or do you just wear whatever you were in?
I myself think that what you wear in the garden is as important as the tools you choose to use. Choosing the right attire can make the difference between an efficient job and a prolonged effort.
This was again proven to me today. I only do gardening as a part time job and I work it around another position. When I started today I had no gardening work to do so I didn't take my tools with me and didn't take my usual gardening attire.
During the day a friend called with a bit of a predicament that required immediate attention and as I had some time I offered to get right on it.
Now I can say that I well and truly got the job done but had I been prepared it would have been much easier. Instead of wearing work boots I had a on a pair of casual shoes.
Instead of wearing gloves I had to go bare handed and instead of good, solid garden clothing I had on relatively good shorts and shirt.
Sometimes this would not be a problem but as the job today involved a lot of digging it made a big difference. Because I had no gloves on I now have a number of blisters.
I spent a lot of time emptying my shoes of sand and the shoes themselves were not great when it came to putting pressure down on a shovel.
As I said, I got the work done but it was not as easy as if I had the right attire.
So what attire should you use in the garden. Well the main things I would recommend are a good, quality pair of boots or at least an old pair of solid sporting sneakers.
Here are some of garden attires you'll need: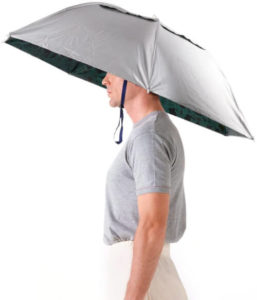 Luwint Adjustable Hat is a lightweight gardening folding umbrella with a silver coating which bounces light off. It It has a 36″ diameter wide enough to cover your head and arms shaded.
This hat is suitable for gardening, farming, fishing, hiking, golfing and shooting, etc.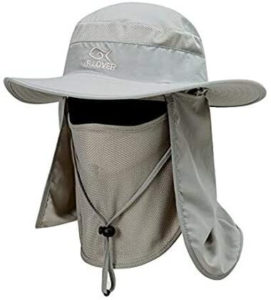 YR.Lover Outdoor UV Sun Protection Cap is perfect for daily sun protection needs. This wide brim hat has a removable neck face flaps and ultra light mesh. Ideal for gardening, hiking, camping, fishing, travel and outdoor sports.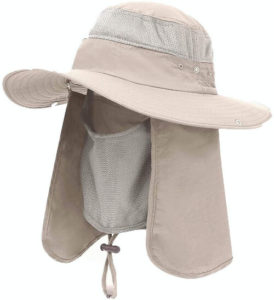 This light weight iColor Men's Sun Cap provides a great protection from the Sun's harmaful UV rays with its wide brim and removable flaps. It is waterproof and windproof suitable for gardening, camping activities, fishing, boating , safari and other ourdoor activities

The G & F 2431L Florist Pro Long Sleeve Rose gardening Gloves is made of quality synthetic leather making it thorn resistant. It has a padded palm and extra long lined cuff to provide protection against thorns.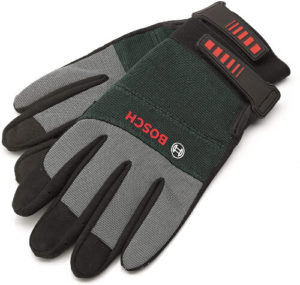 Bosch Gardening Gloves is made from a durable material for a comfortable garden experience. Protects you againts cuts and scratches and keeping your hands clean. Use only for garden work with minimal risk injury.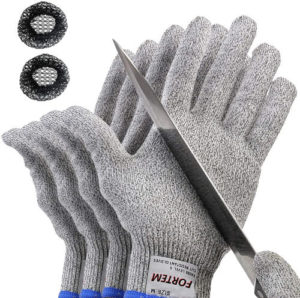 FORTEM Gloves is made with 13 gauge knitted seamless HHPE Nylon to protect you from cuts and lacerations. It is EN388 certified making it ideal whenever you need protection from blades.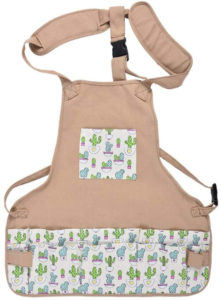 GOTOTOP Gardening Apron is waterproof and wear-resistant. Designed with several pockets and adjustable waist straps that suits both men and women.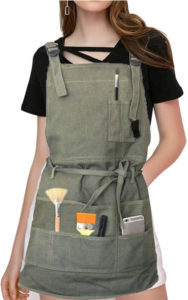 Adjustable Artist Apron is made of 16 oz natural canvas, thick top and bottom hem and double stitched tool pockets. It comes with a cross back soft adjustable straps to prevent neck and back pains. This apron is ideal for gardening, painting, crafting, baking etc.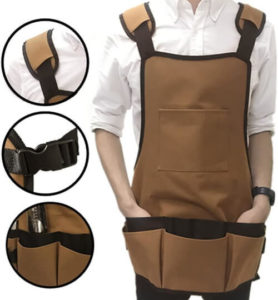 The Vivi Bear Garden is a waterproof and abrasion resistant apron made from high quality Oxford fabric. Its double stitched padded neck and shoulder straps can withstand more weight and give you more security and comfort. Also, it has multiple pockets to keep your tools organized for easy reach.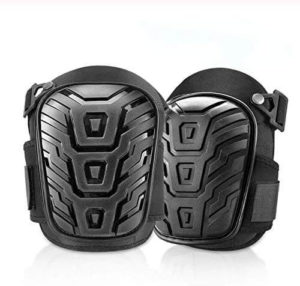 This Heavy Duty Foam Padding Kneepads is designed to provide maximum safety and comfort for the user. It has a heavy duty poly shield and durable EVA foam padding that supports your knees even for hours of knees. Also, it is lightweight and comes with an adjustable strap to ensure a perfect fit.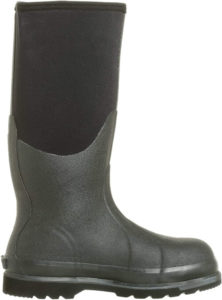 Muck Boot Men's Chore Hi Steel Toe is made from 5mm waterproof Neoprene and is fully insulated to keep you warm.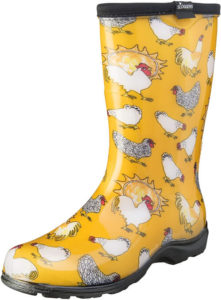 Sloggers Women's Waterproof Rain and Garden Boot comes with an "All-Day-Comfort" insole for maximum comfort and heavy duty lug tread for great traction.
If you will be using tools in a repetitive motion, such as digging, gloves will minimise rubbing between your skin and the tool which will, in turn, minimise the risk of blisters.
I also recommend you wear some old clothes because they will likely get dirty. A wide brimmed hat will not only protect you from the sunburn but can help take some of the force out of a hot sun bearing down on you which can cause difficulty without burning.
Make sure the clothes you choose are comfortable and lose, if you are working hard you will likely sweat and there isn't much worse than tight clothes sticking even closer to your skin.
Make sure you have water and sunscreen and use both liberally.
Choosing the right attire may well be the difference between a one hour job and a two hour job so choose wisely!