Many of the questions that I field here at AussieGreenThumb.com are with regard to vegetable gardening. How to improve the soil, how to grow good tomatoes, how to, how to, how to. I am more than happy to field these questions and hopefully I am able to answer them sufficiently most of the time. However, today I am reviewing a product that I recommend to anyone who wants to improve their vegetable garden and isn't already using raised garden beds. Today I am reviewing a product I recently discovered at Bunnings, ACQ Treated Pine garden beds.
As some of you may be aware, generally speaking it is good to stay away from using treated pine in building raised garden beds because most treated pine is treated with chemicals that include arsenic. There is conflicting evidence as to whether the arsenic actually does or does not leach into the soil, and as such most people stay away from this. However, ACQ treated pine is safe because the treatment chemicals used DO NOT INCLUDE arsenic or chromium for that matter. As such, ACQ treated pine is great for use in building raised garden beds.
Bunnings ACQ treated Pine garden beds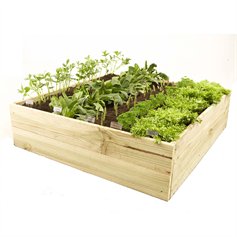 I stumbled across this product when I myself was trying to work out which wood I would use to build a garden bed. When I saw a pre-cut and ready to DIY assemble packed garden bed that was priced at only $49 I thought all my Christmas' had come at once. To build this myself I would have struggled to do it for less than that price (at wholesale price it would be possible) and the added labour this would save me appealed greatly. The website lists the price at $59 but I did only pay $49.
Because I am actually naturally skeptical about 'pre-made' things I actually only bought one first because I wanted to road test this product before committing to using these for my entire vegetable garden. I took it home and started putting it together to see just how easy this product was to use and whether or not it suited my needs. I can safely say it exceeded my expectations on nearly every level.
True to their word every part of the assembly was ready to go. The pine sheets were pre-drilled and the screws included in the kit. All I had to do was grab my drill, put the right philips head drill piece in and get to work. I had the frame together in about 30 minutes.
I then moved the frame into position. It was light-weight enough to be able to move once assembled but felt very strong and stable. It measures 120cm x 120cm x 31cm which is a little lower than I would have liked, but for the ease of use I am happy with that. I'd probably have built my own to 40cm. After putting the frame together I filled it with my desired soils and manures and also built a simple polypipe reticulation system into it.
I was so happy with this product that I actually went out and bought another two and set them up in the same way. The second and third frame only took me about 20 minutes each to assemble since I knew exactly what I was doing. Filling them took about an hour total and adding reticulation about another half an hour. All up my entire project would have been about 5-6 hours tops, an easy weekends work.
I'd strongly recommend this product if you are looking to install raised garden beds at your place.
So You Want A Better Garden?
All my best articles have been collected into what I'm calling the ultimate gardening toolkit – make sure you take a look, there's a heap of great gardening advice available.
I've also published a series of gardening ebooks that you might be interested in. Good luck!