UPDATE – I now recommend Husqvarna Brush Cutters. Check out my review of some of their new additions by clicking here or go direct to their website here.
Last month I reviewed lawnmowers, in particular I recommended that when you go to buy a lawnmower that you buy a Victa lawnmower. However when it comes to making your grassed area look good, mowing is only one aspect.
When it comes to keeping your grassed area's and your garden beds separate one of the quickest and easiest tools to use is a Line Trimmer or a Brushcutter.
When it comes to buying a Line Trimmer or Brushcutter in Australia I believe there is a brand that stands head and shoulders above the rest and that is Stihl.
So why should you buy Stihl line Trimmers or Brushcutters? Read on to find out.
I myself have owned a few different Brushcutters or 'whipper snippers' as I have always called them and I can categorically say the best purchase I ever made was from the Stihl range.
I never needed to use it but they offered a fantastic warranty as standard. I never once had a break down and my whipper snipper required very little maintenance.
I believe Stihl themselves say it well on their website when they say "No matter what your requirements, be it home garden maintenance, tending parks or landscape maintenance, on farms or in forests: STIHL has a Line Trimmer or Brushcutter to make job done more quickly and efficiently and to make the work feel easier."
For the moment let's just assume you have decided that Stihl is the way to go. Great, now what? What Line Trimmer or Brushcutter is right for you? Stihl has a large range.
They have light Brushcutters, Line Trimmers, powerful Brushcutters, professional clearing saws and electric Line Trimmers. For the purpose of this article I will review a light Brushcutter, a Line Trimmer and a powerful Brushcutter because I believe this will cover the needs of most of my readers.
Line Trimmer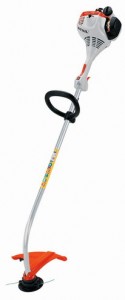 Stihl Line Trimmers are the most basic trimming tool. If you are looking for a tool to do a basic trimming job every now and then (when you get the lawnmower out once a month), a Line Trimmer is probably all you need.
Line Trimmers are good for quickly tidying up area's such as along fences and along walls and around the various hedges, trees and plants that you have in and around your grassed areas.
Stihl offers 3 different Line Trimmers but I am going to recommend the FS 45 C Easy2Start Line Trimmer because this product is truly designed for gardeners who what no hassle and no fuss, particularly in starting the machine.
This offers a basic 0.75kW of power and weighs only 4.3kg. Perfect if you have just a small amount of trimming to do after you have mowed your front and/or backyard.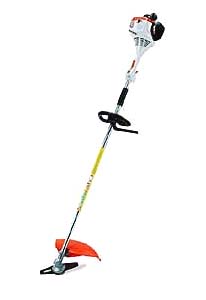 Light Brushcutter
The main difference between Line Trimmers and Brushcutters is Line Trimmers generally have bent shafts and Brushcutters generally have straight shafts. This is in general and doesn't always hold but as far as the Stihl range is concerned, it does.
Straight shaft's are designed for more heavy duty work and also allow for the addition of a blade attachment for cutting large areas of grass where a lawn mower cannot reach for whatever reason.
In the Stihl range the best light Brushcutter for home use is the FS 55 RC Easy2Start. It is very similar to the Line Trimmer I recommended above in that it boats a 0.75 kW of power and weighs only 4.8kg.
In fact the only real difference is the shaft, straight shaft versus the bent shaft of the FS 45 C Easy2Start Line Trimmer.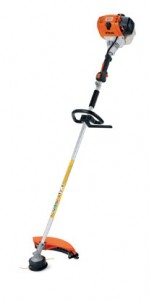 Powerful Brushcutter
Perhaps you need a Brushcutter for more heavy duty use. This might be because you are running a gardening business and so use your tool daily.
It might also be because you have a larger than normal garden or lawn area to maintain or because you intend on using your Brushcutter on a very regular basis.
If this is the case then you may as well get a top notch powerful Brushcutter and as such I recommend the Stihl FS 130 or Stihl FS 130R.
The only difference between the 130 standard and the 130R is the standard comes with what is called 'bulbar' handles and supposedly offers a more comfortable experience where as the 130R has 'loop' handles designed to allow more manoeuvrability.
I personally prefer the 'loop' handle. This wonderful machine boasts a significant 1.4 kW  of power and weighs in at 5.6kg, a respectable weight for a machine with this power rating.
Last Word
I hope one of these three machines suits your needs. Remember, the Line Trimmer works best for casual, general use.
The Light Brushcutter allows the addition of a blade for trimming large grassed area's that a mower can't get to and the powerful Brushcutter is for more heavy duty work and more brings more grunt to the table.
On a related note check out Yardsurfer's post on John Deere Snow Blowers.
So You Want A Better Garden?
All my best articles have been collected into what I'm calling the ultimate gardening toolkit – make sure you take a look, there's a heap of great gardening advice available.
I've also published a series of gardening ebooks that you might be interested in. Good luck!