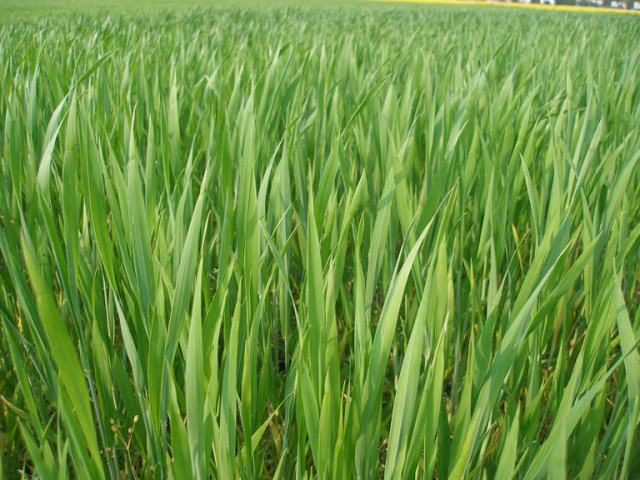 Many Australians have lawn. For people who don't live in an apartment block (most of whom don't have a garden anyway and so won't be reading this) lawn maintenance can be a costly and time consuming affair. Many people pay to have their lawn mowed and maintained weekly, bi-monthly or monthly and over time this cost adds up. Now, I myself offer this service to many but am still happy to say if you have the time and energy it is definitely cheaper to do it yourself. For people who have decided to go down the self-maintenance route there is always one question, what lawn mower do I buy? There are so many brands of lawn mower to choose from. Even if you know which brand you want, there are countless mowers on offer from any particular brand and so the whole thing becomes a difficult process. Let me take some time to make this choice simpler, buy a Vista lawn mower.
Growing up my family has always owned a Vista lawn mower and they have always been fantastic. In fact the only lawn mower purchase I regret was of a NON Victa lawn mower. As the Victa website states, "Victa is an iconic Australian brand with a history spanning more than 55 years". In that time they have grown from a small business in NSW to one that provides lawn mowers to many Australian Families throughout Australia.
Now Victa offers a lot of different mower types but today I am going to recommend 3. One 16", one 18" and one 19". The number basically tells you how wide the blades mow. So a 16" is mostly effective for people who have a small amount of lawn to mow where as the larger 19" is beneficial for people with large, open plan grassed areas. I find for domestic purposes than an 18" mower usually does the trick for most people however. These 3 mowers are all considered to be for 'domestic' use which means they are designed for home use and not necessarily for professional, daily use but then most people are not looking to buy a lawn mower to use every day!
16"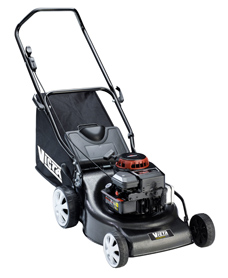 Victa's Corvette 400
The Corvette model name is nearly as old as Victa itself with the first corvette model lawn mower being developed in the mid 1960's. Ever since then it has always been affixed to an extremely reliant lawn mower. It is a very cost effective model that boasts a 4 stroke Briggs and Stratton engine which I consider to almost be a must when buying a lawn mower! It comes with easy push ball bearing wheels and a light weight fabric bag catcher. The only down side is you can only buy them from a Victa Gold authorised dealer, but if you can find one I highly recommend this mower!
18"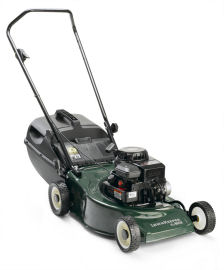 I could easily recommend here another of the Corvette range but instead I am going to recommend the Lawnkeeper 18. The main reason for this is it is available from more dealers! The Lawnkeeper 18 also boats a 4 stroke Briggs & Stratton engine and has easy push ball bearing wheels  with a sturdy rigid plastic catcher. Why is it better than the Corvette 400? Simply because it is an 18" as opposed to 16" model. 16″ really best suits a small grass area. If you would not categories your grassed area as 'small' then you probably want to consider getting the Lawnkeeper 18 model. However the Corvette 500 is also a very good purchase if you can find a dealer that is stocking it.
19"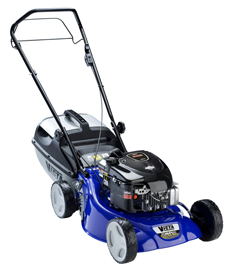 If you are considering buying a 19" mower you probably have a fair amount of lawn to mow and so for this reason I am going to recommend that you buy the Victa Tornado Self-propelled. The upside to this mower is you won't have to expend as much energy pushing it as it propels itself, you just have to guide it. The downside is the energy to propel it has to come from somewhere and so this model does use more fuel. Still, it has a 4 stroke Briggs & Stratton engine, easy to push, with 8" ball bearing wheels , innovative, easy to use mulching plug  and a versatile, adjustable vent catcher. For large grassed area's this mower is a real gem!
So there you have it, plenty of idea's to help you choose which lawn mower to buy. I hope these recommendations help you in your choice.
So You Want A Better Garden?
All my best articles have been collected into what I'm calling the ultimate gardening toolkit – make sure you take a look, there's a heap of great gardening advice available.
I've also published a series of gardening ebooks that you might be interested in. Good luck!