Last week I featured the Adenanthos cuneatus, this week I am actually featuring this plant again, but with a twist, because this variety is now ALSO available in a ground cover form.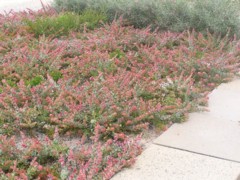 Genus: Adenanthos
Species: cuneatus (ground cover)
Common Name: Coral Carpet
Flower Colour: Purple
Foliage Colour: Grey
Growth Habit: Ground Cover
Flowering: Spring, Summer, Autumn
George Lullfitz, the owner of Lullfitz Nursery, produced a variety of the cuneatus with the growth habit of a ground cover in 2005. This is a fantastic mix of the strengths of the traditional cuneatus and the benefits of a lower growing ground cover. Many people like the cuneatus but are wanting a smaller plant. This ground cover variety works well because it grows well and can cover a large amount of space.
Thanks to Lullitz Nursery for some of this information.