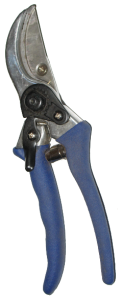 On Saturday I outlined what you need to look for when buying hedge shears/clippers. Today I am going to outline what you should look for when buying secateurs.
I had said this would be a three part series but it looks to me now like it will be more, so stay tuned.
Aussie Green Thumb garden tool buying guides:
Buying guide: Shears
Buying Guide: Secateurs
Buying Guide: garden rake
Buying Guide: loppers
Buying Guide: garden trowel
Buying Guide: spades and shovels
Buying Guide: pruning saw
Buying guide: garden fork
When it comes to gardening you really won't get far without a good pair of secateurs. But what makes secateurs good? What should you look for when you are shopping for secateurs?
One thing many gardeners don't know is that there are actually three different kinds of secateurs, Anvil, Bypass and Parrot Beak. Very quickly, Anvil secateurs have an upper blade which pushes down onto a flat lower 'anvil'.
Parrot Beak secateurs have two blades which cut by meeting together in the middle and looks like a parrot's beak. The third kind of secateurs is called Bypass secateurs.
They work by having two blades which bypass each other in a similar way to scissors.
The big difference between Bypass and Parrot Beak secateurs is the shape of the blades, with Parrot Beak having two identical blades compared to Bypass which has one large and one small blade, the large blade being convex in shape and the small blade being concave in shape.
Bypass secateurs are the main type used and sold and will be the focus of this entry.
When buying secateurs there are a few things to consider.
One of the most important things to check out is how they feel in your hand. When you are out shopping pick up a few pairs and see how they feel. Feel for weight, feel for grip.
Most secateurs handles will be shaped with little divots for your fingers to go in, find the pair whose divots best fit your hand.
Another key tip is to make sure the secateurs you are keen on have a safety latch that is easily engaged and disengaged with one hand.
When you are pruning a plant, if you have to stop and use two hands to engage the safety latch it is more likely that you won't. A safety latch is only useful if it is likely to be put to use.
Try and look for secateurs with plastic covered metal handles. Metal handles are strong but are cold to work with and plastic handles are a sign of cheap manufacturing and are not likely to last as well as metal handles.
There are three different blade types, stainless steel, coated steel and carbon steel. My preference is for stainless steel but carbon steel works well two.
Either of these kinds will stay the sharpest for longer periods of time. The only real upside to coated steel is that it cleans more easily.
Cleaning your secateurs after use is extremely important but having blades that remain sharp are better for the job at hand.
Here is a list of secateurs you can choose from:
FELCO 2 Classic Pruning Shears / Secateurs have a durable yet easy cutting adjustment. It is built with a non-slip coating and cushion-shock absorber for more hand protection.
You'll surely get a clean and precise cut with it's riveted anvil blade made of high-quality hardened steel.
OCALIVING Traditional Bypass Secateurs' blades are corrosion resistant. This can be used by both beginners and experts aiming for both indoor and outdoor use.
With the belief that nature provides the best materials, it does not have any plastic or PVC. Instead, it's shears are made of woosh ash handles and highly forged stainless steel blades enabling it to last for years.
Considering how much fatigue and muscle tiredness you get from using regular secateurs, it's spring assists feature follows the natural action of the hand when cutting.
Gonicc 8″ Professional Sharp Bypass Pruning Shears is made of high quality carbon steel blade. This is made with ultra-fine polishing technology certainly making this shears one of the best in the market.
With it's non-slip handles, you'll feel it's strong yet comfortable grip for longer use in the garden.
This Tree Trimmers Secateurs are made of high carbon steel making it not easy to rust and wear.
It's ergonomic designed build and handle make it easy to use with little effort and less fatigue even in long time use.
Professional Garden Shears Tree Trimmers Secateurs are spring-loaded with a shock-absorbing system. It is ergonomically designed for non-slip durable, comfortable, yet lightweight to reduce hand fatigue when cutting branches.
After going thru 10,000 non-deformation durability tests and fatigue test, the spring is still intact needing not to worry about drop of the spring.
The general rule of thumb with secateurs is, strangely enough, don't try cutting plant limbs that are thicker than your thumb. If you try and cut limbs that are too thick you will damage the blade and therefore your tool that you have invested in will not last as well for as long.
Prices range from $5-$10 at the cheap end right up to $150-$200. Again for a household gardener I'd say you could probably get a pair that will work ok for $20-$40 but a good pair at around $50 may well last you a decade or more.
My Grandma had a pair that I know was much older than I was when I was 10, good tools well looked after last a while.
Good luck with your shopping for secateurs!
So You Want A Better Garden?
All my best articles have been collected into what I'm calling the ultimate gardening toolkit – make sure you take a look, there's a heap of great gardening advice available. I've also published a series of gardening ebooks that you might be interested in. Good luck!